Major search operation underway in tsunami-hit Japan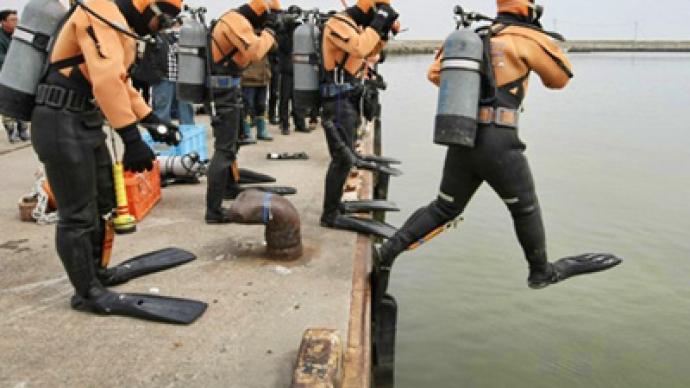 Japanese and US troops have launched a search for the bodies of those killed by the severe earthquake and tsunami which hit the country on March 11. This comes as the Fukushima plant workers prepare to pump radioactive water from their premises.
About 22,000 Japanese and American troops are currently searching coastal and inland areas from Iwate to Fukushima prefectures, Japanese television NHK reports. The operation excludes the 30-kilometer zone around the troubled Fukushima nuclear plant.According to the television, the mission involves 50 vessels and 90 aircraft. The previous operation, which was held in the beginning of April, uncovered over 300 bodies. The number of dead and missing as a result of the March 11 disasters and a series of aftershocks has recently reached nearly 28,000 people. NHK quoted the country's National Police Agency as saying that of those, 12,985 people have been confirmed dead and 14,809 remain missing.About 83 per cent of the recovered bodies have been identified and passed on to families, the television channel reports. Workers at Fukushima nuclear power plant are expected to start pumping radioactive water from underground trenches, Kyodo news agency reports. The agency quoted a spokesperson for the Nuclear and Industrial safety agency as saying that the pumping must be conducted "in haste."About 60,000 tons of toxic water were found earlier in the basement of several reactor turbine buildings and in the drainage systems of the plant. Transferring the water from the premises is considered vital to continue restoration work at the facility.  Some of the highly contaminated water is expected to be moved to a special condenser inside Unit 2 of the facility. The condenser has a capacity to store 3,000 tons of liquid. The remaining water is expected to go to a special nuclear waste disposal facility at the plant and other turbine condensers.  Workers are still pumping low-radioactive water, found in the nuclear waste disposal system, into the Pacific Ocean. A total of 8,900 tons of water has been disposed of from the facility as of Sunday morning, and the plant operator Tokyo Electric Power Co. plans to finish the release of 200,000 tons during the day. Also, in order to prevent highly contaminated water from Unit 2 of the Fukushima plant from leaking into the ocean, the operator of the Fukushima plant earlier made a decision to construct a 120-meter wall in the sea.
You can share this story on social media: