Jamaica's bobsleigh team finally in Sochi – but without equipment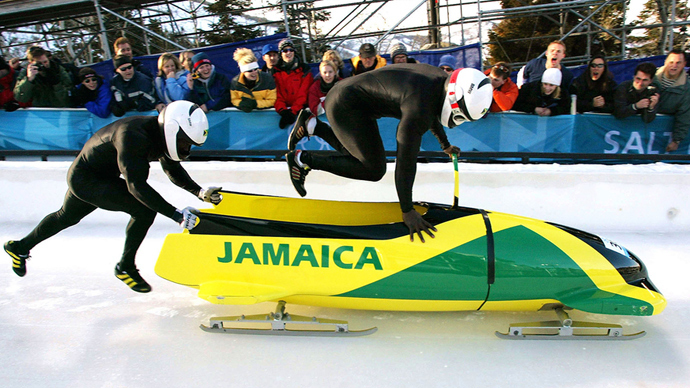 The Jamaican bobsleigh team, who raised money through the internet to go to the Winter Olympics, is finally in Sochi. But here's yet another hurdle: their luggage and equipment have gone missing.
"The sled is here," driver Winston Watts was quoted as saying by Associated Press. "But the blades that we put our heart out to get, the airline maybe left them back in New York. None of us have clothing."
Watts said that he and brakeman Marvin Dixon flew from their training base in Lake Placid, US, on Monday and were due to take a connecting flight from New York to Moscow.

However, because of bad weather the plane could not land and they had to go to Philadelphia first. When the athletes finally landed in Russia's, they found out that their luggage was stranded somewhere between JFK airport and Sochi.

Despite the frustrating setback, the team – which has already put in an enormous effort just to be back at the Games – is not going to give up. Watts said that if the equipment did not arrive by Thursday, they would borrow runners, helmets and suits from other teams in order to be able to practice.

"I do have a backup plan," Watts said trying to be optimistic. "We do have a lot of guys here that want to help us, so I'm excited to see what's going to be the outcome tomorrow."
Watts, 46, and brakeman Dixon, 28, will compete in the two-man bob in Sochi after a 12-year absence at the Winter Games.
This latest luggage adventure is not the first obstacle on their way to the 2014 Olympics. After the team qualified for the games, they didn't have enough money to pay for the trip and needed $80,000. In just a few days, they managed to raise even more than was needed, and their Olympic dream took a step closer.

"With the help of our friends, sponsors and Jamaica's Olympic Association, we've raised around $148,000 for travel expenses and preparations for the Games and are set to spend it wisely," Watts said earlier, as quoted in the media.
#JamaicaBobsled Team equipment is now at the airport in Russia and will get to the team shorlty

— Team Jamaica (@JamaicaOlympics) February 5, 2014
Watts is a veteran Jamaican driver who took part in the Olympics in Lillehammer in 1994, in Nagano in 1998 and in Salt Lake City in 2002. In Lillehammer, the athlete (back then known as Watt) was part of the Jamaican four-man sled team which came 14th, leaving the American and Russian Olympic squads in their wake. The Jamaican athlete came out of retirement with the aim of taking part in his fourth Olympics.

It was after the 1993 film 'Cool Runnings' that Jamaican bobsledders got fans around the globe. The movie was based on a true story about the first Jamaican bobsled team performance at the 1988 Olympics in Calgary.

"We want to go out there and show the world that we are still around, that we are still competitors. You always hear people at events, and over in Europe asking, 'Hey, where is the Jamaican bobsleigh team'?" Watts said earlier, as quoted by sochi2014.com.
The team, which comes from a tropical island-nation that has never seen snow, drew world-wide attention as an example of human endeavor and devotion to a goal.
#JamaicaBobsled team luggage on carousel earlier today in Moscow ‏. thanks @ndmarcianopic.twitter.com/MfKz3CkROB

— Team Jamaica (@JamaicaOlympics) February 5, 2014
You can share this story on social media: