Italy calls in army amid fears of elections violence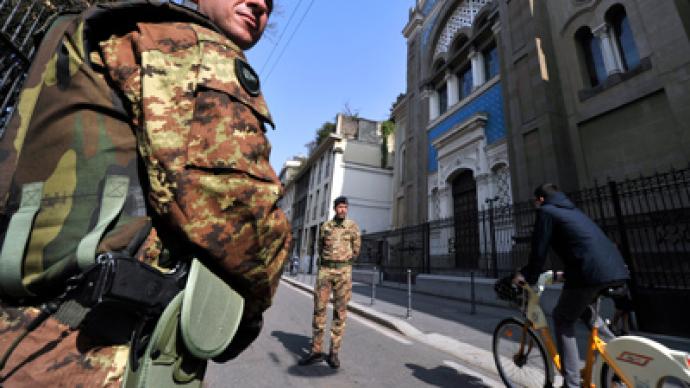 Italy is stepping up security and calling in army battalions ahead of local elections on Sunday amid fears of an increase in what the country's interior minister describes as "political violence".
Around 400 government buildings, including tax offices are having their security upgraded. Several army battalions have been redeployed to guard the institutions considered sensitive to possible attacks. The measures follow a series of incidents. Last Saturday, two petrol bombs were thrown at the offices of Equitalia – the agency which handles tax collection – in the western city of Livorno. Multiple letter bombs have been sent to tax offices in recent months as officials clamp down on tax evasion.A group named the Informal Anarchist Federation claimed responsibility for a string of letter bombs in a message to an Italian newspaper. It also said it was behind an attack on a key nuclear scientist, the CEO of an Italian nuclear engineering company, who was shot in the leg as he left his home in the port city of Genoa earlier in May.The group pledged it will strike seven more times.The Informal Anarchist Federation is believed to be a structure of various anarchist terrorist groups, united in their beliefs in revolutionary armed actions against the current European order, which they see as an oppressive authority. The group is known for attacks on different European Union institutions – what they describe as "the apparatus of control that is repressive and leading the democratic show that is the new European order."The incidents had led to fears of a repeat of the 1970s "Years of Lead" – a period of socio-political turmoil in the country, which saw unprecedented acts of terrorism. The far-left Red Brigades spread what became known as "political violence" and terror across Italy with their attacks on the political, military and industrial establishment. Between 1969 and 1981, nearly 2,000 murders were attributed to political violence in the form of bombings, assassinations, and street warfareThe officials therefore urge not to underestimate the recent attacks as they represent "a signal of alarm" amid economic difficulties brought on by the financial crisis. A wave of recent suicides committed by the country's businessmen because of the crisis brought hundreds of people into the streets earlier in May. Protesters hurled red paint and eggs, lobbed rocks and bottles at officers guarding an Equitalia building in Naples, turning a peaceful gathering into violent clashes.
You can share this story on social media: