Italians protest against U.S. military base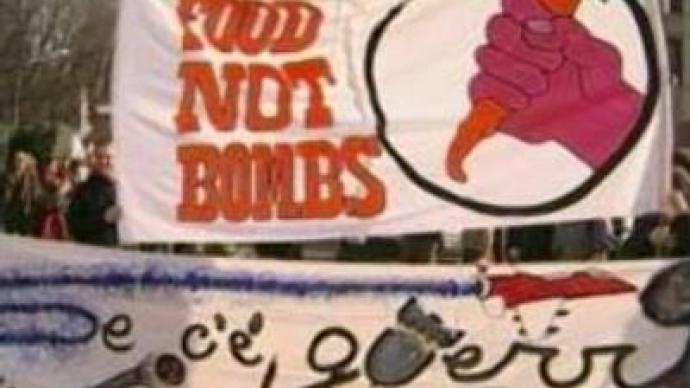 About 30,000 demonstrators are protesting against the expansion of a U.S. military base in the north of Italy. The protesters arrived on trains and buses from all across Italy for a 7-kilometer march through downtown Vicenza.
Helicopters and around 1,300 police are monitoring the demonstration, as the government fears that anti-globalists, leftist activists and anarchists could provoke mass riots. Local residents are concerned plans to almost double the size of the U.S. Ederle base will cause more traffic, deplete local resources, and increase the risk of terror attacks.Many Italian residents and Premier's Prodi own ministers have been angered by the decision to support the agreement on the base expansion, reached by the U.S. and the cabinet of former Italian Prime Minister Silvio Berlusconi. Meanwhile, another row concerning the U.S. is gaining momentum in the country. An Italian judge has ruled that 26 Americans, most of them believed to be CIA agents, should stand trial for the alleged kidnapping of a Muslim cleric. A terrorism suspect, known as Abu Omar, claims he was abducted in Milan in 2003. According to the man, he was then taken to Egypt where he was tortured.
Osama Mustafa Hassan Nasr was allegedly seized by the CIA in Italy in 2003 and flown to Egypt for questioning. Also known as Abu Omar, he was suspected of having links to terrorist organisations including Al-Qaeda. Mr Hassan says he was repeatedly beaten and tortured during his detention.
He was released from prison in Egypt almost a week ago but still faces arrest for suspected terrorist activity if he returns to Italy. Most of the 26 U.S. citizens accused of involvement in his alleged kidnapping are believed to be CIA agents. Five Italians were also indicted, including Italy's former military intelligence chief, Nicolo Pollari.
"At this stage there has not been a clear and profound declaration on the real and physical identities of anyone involved, even if I think it is virtually impossible. I believe during the trial we have to know the identity of who was really involved,"
Defence Lawyer Guido Meroni commented. The American suspects are expected to be tried in their absence because Washington is unlikely to hand them over. Even the lawyers appointed to defend the Americans say they have had no contact with their clients. The trial is the first criminal case over so-called U.S. "renditions" – the most controversial aspect of the U.S. war on terrorism. During rendition, people suspected of involvement in terrorist activities are flown to a foreign country for interrogation, and many claim they are tortured. The U.S. government and the CIA have not commented on the case so far. Washington has acknowledged secret transfers of terrorism suspects to third countries, but denies sanctioning torture. The trial is due to begin on June 8.
You can share this story on social media: