Italian Football Federation suspends all matches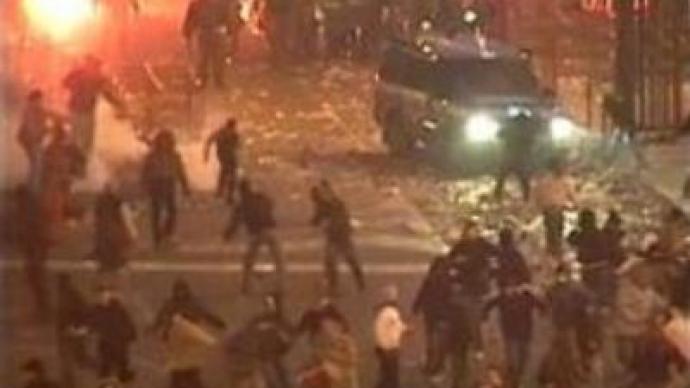 The Italian Football Federation has suspended all matches after a policeman was killed during a riot by fans, following a match between Catania and Palermo. Around a hundred people were injured and 15 arrested.
Another police officer is believed to be in a critical condition. According to media reports, 15 people were arrested. None of them, however, are suspected of the killing of the policeman. Fighting broke out between Palermo fans angry at being prevented from entering the stadium until the second half during the Sicilian derby with Catania. An unprecedented measure was taken by the police – they fired tear gas at the stadium.The smoke drifted onto the pitch and the game was suspended for 30 minutes. Outside the stadium violent clashes were escalating – thousands of fans battling with police hurled stones, flares and even explosives. 38-year-old Police Chief Inspector Filippo Raciti died from a heart atack after an explosive device was thrown into his car.
"There was a moment in which the heart started to pump again but then the young man passed away. I have been a doctor for years but this is one of the most unacceptable things I have ever seen, it is not acceptable than somebody should die during an event which should have been a celebration,"
Umberto Scapagnini, Mayor of Catania says. The violence follows the death of an Italian 4th-division team manager in January, who was trying to stop fans from brawling during a match.Italian Prime Minister Romano Prodi said a clear signal is needed to avoid the degeneration of football in the country. Meanwhile, the Italian Football Federation has taken the exceptional measure of suspending all upcoming games in both top divisions and cancelling next week's scheduled international friendlies which include Italy. Following last year's match-fixing scandal, can Italian football go on at all ? – that's the question which faces a commission set up for Monday to tackle the issue.
You can share this story on social media: