Italian Centre-Left coalition for Prodi to stay as PM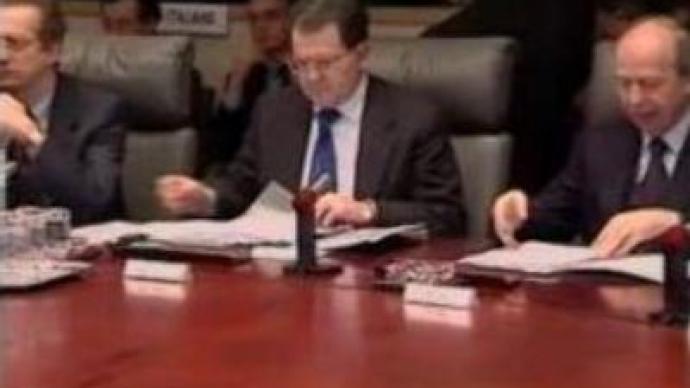 Italy's centre-left coalition has agreed to support Romano Prodi in his bid to remain the country's Prime Minister. They reached a deal on a 12-step political programme after late-night talks with Mr Prodi on Thursday.
The plan includes respecting Italy's international commitments and its military presence in Afghanistan.Romano Prodi, the 61st Prime Italian Minister since WW II, has only been in power for 9 months. He stepped down on Wednesday, following an embarrassing defeat in the senate over his government's foreign policy.Earlier on Thursday, the Italian President Giorgio Napolitano held talks with the country's political leaders to discuss the formation of a new coalition government.His talks with political leaders were aimed at determining who, if anyone, can rally enough support for a parliamentary majority.The situation was worsened by the plans of Italy's authorities to keep Italian troops in Afghanistan and to expand a US airbase in Northern Italy.Italy currently has 1,800 troops stationed in Afghanistan. The decision to send them to the war-torn country was made by Romano Prodi's conservative predecessor, Silvio Berlusconi. The current government has agreed to keep the Italian troops there, and it is this decision that has drawn such stiff opposition from its own communist allies, many of whom are pacifists.Romano Prodi needed 160 votes to win the backing from the Upper House, but he missed out by just 2.Following the defeat, opposition leaders turned on the pressure and called for Mr Prodi to quit.
"A coalition which cannot maintain the confidence in one of the two branches of the parliament on such an important issue does not deserve to stay in power one minute more,"
said Bobo Craxi, leader of New Italian Socialist Party and a member of the government coalition.However, Romano Prodi's supporters wasted no time in coming to his defence. A spokesman for the Prime Minister said he would be willing to stay on as premiere if he receives the full support from all coalition parties.In the meantime, Mr Prodi will stay on in a caretaker role.Talks are expected to continue through Friday and if an agreement can not be reached, President Napolitano may be forced to call for new elections.A political analyst, Angelantonio Rosato, commented on the current situation and possible future scenarios.
'The situation is that President of the Republic Giorgio Napolitano began talks, consultations this morning, and there are different positions. l'Ulivo sent the last call for a new government, what we say "Prodi-bis". Pierferdinando Casini, the leader of the Christian Democrats, wants to sit down and discuss. And Berlusconi and the others from the centre-right don't want the Prodi government again. There are several possible scenarios. The first one is that President Napolitano will tell Prodi to shape a new government, maybe a copy of the previous one, and to go to the parliament to ask for a confidence vote. Second scenario: Napolitano gives to the Democrats, like Speaker of the Senate Franco Marini or Minister of the Interior Giuliano Amato a try to form a new government, a so called technical government, to carry on urgent reforms like pensions and next year's budget. The third scenario is that the President calls for general political elections,'
he said.
You can share this story on social media: