ISS crew to mark Cosmonautics Day in the right space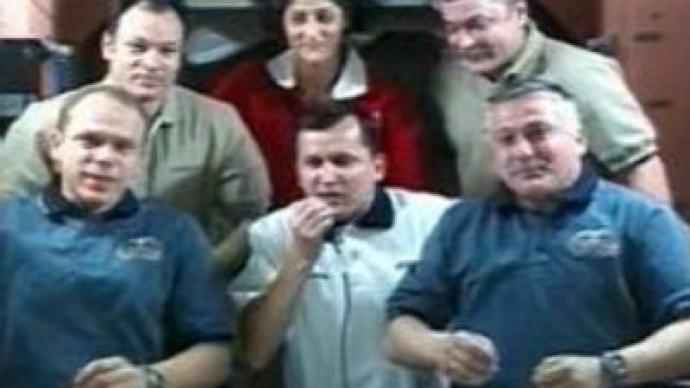 The members of the 15th expedition to the International Space Station are planning to mark the anniversary of Yury Gagarin's flight into space with a special dinner by a famous French chef.
The statement was made at a press conference on Wednesday. The conference lasted only some 15 minutes, with most of the time given to Charles Simonyi, a U.S. space tourist.
"Charles showed the right way to conquer space,"
cosmonaut Fyodor Yurchikhin, member of the expedition, said,
"First to achieve heights in business, then in space. He also told us Bill Gates is thinking about a journey to space, so the next crew might meet him!"
Some of the friends of Charles Simonyi came to see him blasting off from Baikonur, others joined the press conference. Jeff Raikes, President of Microsoft Business Division confessed that his friend's experience can make him interested in space tourism himself.
"Being here today, having an opportunity to see Charles while he is in space, answering questions from the journalists certainly creates an interest in this possibility,"
said Jeff Raikes.People asked Charles Simonyi a lot to answer in Russian, which he studied during his training course, but he only did it just once or twice. Along with the numerous personal questions asked to the crew members was a question of how they were going to celebrate April 12, which is the Day of Cosmonautics in Russia. Mr Simonyi explained they were going to have a special dinner, prepared by famous French chef Alain Ducasse, to mark the holiday. Sochi Olympics has also got support coming from the stars – the cosmonauts took T-shirts with Sochi Olympic symbolics to the orbit in order to support the Russian city's bid. Charles Simonyi said he was going to wear one, which, as he joyfully remarked, will make his fellow countrymen "envy for the wonderful Russian uniforms".
"I am going to wear the shirt of the Russian team and make people aware that these games are coming on",
he added.The 15th ISS crew has a lot of work to do, with 49 experiments planned, including some never done at the station before. Also they will conduct three spacewalks. Mr Simonyi will get back on April 20 together with Mikhail Tuyrin and Miguel Lopez-Alegria, members of the 14th ISS crew. Sunita Williams will stay at the station and continue work with a new expedition.
You can share this story on social media: