Flying high: Next ISS crew set to reach station in record time
The next crew to set off for the International Space Station may reach it in a record six hours, far outstripping the current time of two days. The quicker trip is now possible thanks to a launch trajectory, which is currently undergoing tests.
The 35th space mission to the ISS consists of a Russian-US crew and includes cosmonauts Pavel Vinogradov and Alexander Misurkin together with NASA astronaut Chris Cassidy. The launch is scheduled on March 28 at 2043 GMT from the Baikonur Cosmodrome in Kazakhstan aboard a Russian Soyuz spacecraft.
The new fast-track trajectory has the rocket launching shortly after the ISS passes overhead.
Normally it takes Soyuz capsules two days to reach the orbiting laboratory after launch. Vinogradov, Misurkin and Chris Cassidy are set to make the trip faster than any other astronauts before them - in just six hours. Docking is set for 0231 GMT on March 29. The planned duration of the expedition is 168 days. The crew will undertake a scientific program involving dozens of experiments, unload four Russian "Progress" cargo spaceships and also conduct a series of spacewalks.
One of the reasons given in the past for having the two-day or even three-day flight in the Soyuz was to allow the crew members time to acclimatize to being in zero-gravity.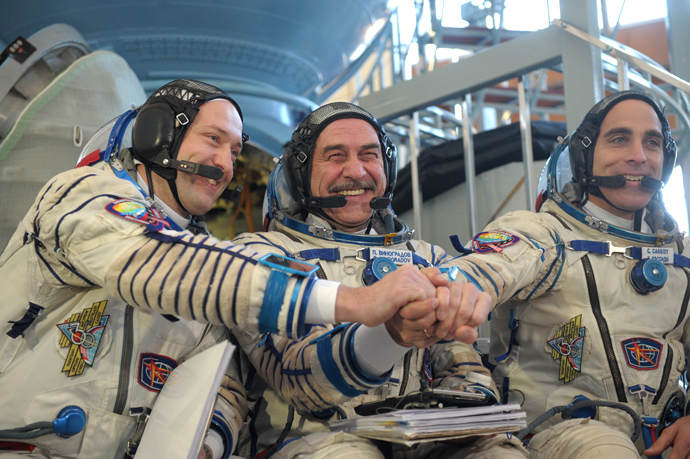 The actions of the cosmonauts will be the same as what they do on a two-day profile, according to the participant of 35th space expedition to ISS, Chris Cassidy. Normally they go to bed and have a period of time on the next day when cosmonauts just monitor the vehicle.
"On our mission it all will happen in a tight sequence of six hours. We have periods of about 45 minutes or so in between these maneuvers – it's a bit of downtime, but technically that's how it's possible. There's tighter constraints on where the space station can be on launch time than on a typical profile the space station has a little more leeway on where can it be at the time of launch," added Cassidy.
The fast-track trajectory is not a completely new practice, with the method already being tested on cargo vehicles. But now they will 'try to do it on the manned vehicles,' head of the Gagarin Cosmonaut Training Center, Sergey Krikalev told NASA TV.
"Now we have onboard new machinery and new software, so the vehicle is more autonomous, so it's possible to do a lot onboard the vehicle and to calculate the burns so they don't consume a lot of fuel," added the former cosmonaut.
Additional firings of the vehicle's thrusters early after launch are said to help shorten the time it takes to reach the station.
The new fast-track trajectory could become a permanent feature of ISS missions, either by the end of this year or starting from 2014.

You can share this story on social media: