Mutant space microbes attack ISS: 'Munch' metal, may crack glass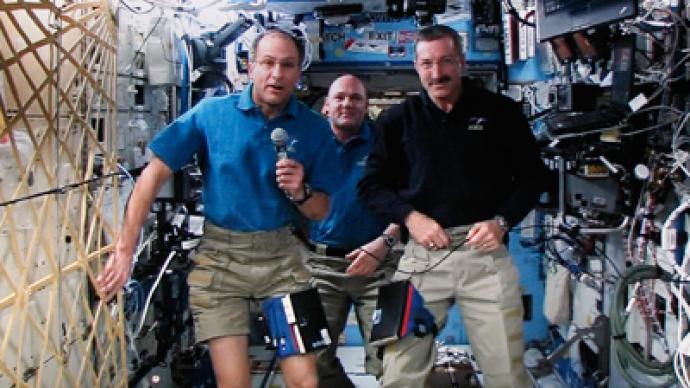 Seventy-six types of unregulated micro-organisms have been detected on the International Space Station (ISS). Though many are harmless, some are already capable of causing severe damage. And no one knows how they will mutate in space.
"We had these problems on the old MIR space station, now we have them on the ISS. The microflora is attacking the station. These organisms corrode metals and polymers and can cause equipment to fail," Anatoly Grigoryev, the vice-president of the Russian Academy of Sciences, told Interfax news agency.Despite extensive precautions, most of the microbes are accidentally brought to the space station with various cargoes.One of the early Russian crews also carelessly released a fungus that was later allowed to spread.Of particular concern is the Zarya – the first ISS module launched into space in 1998.But the crew is also in potential peril."Uncontrolled multiplication of bacteria can cause infectious diseases among the crew," said Grigoryev.
Surprisingly common problem
As stations grow older, microbe contaminations get worse.On the predecessor of the ISS, the Russian MIR (Peace), there were 90 different micro-organisms in 1990, four years after its launch. By the time it was decommissioned in 2001, the number had risen to 140.In the relatively sterile and temperature-controlled environs of the station, bacteria were allowed to spread easily.Micro-organisms also evolved and became highly aggressive. Cosmonauts reported corroded illuminator glass, holes in the metallic casing of the control panel, and exposed leads, the insulation of which had been eaten away.The ISS is expected to be in operation at least until 2020.Russian scientists also believe that particularly resilient bacteria can survive for years in extreme conditions on the outside of the station, as several experiments have proved.Whether their mutations could be dangerous if these are allowed to escape is not clear.Currently, Russian cosmonauts are wiping down surfaces in their modules with anti-bacterial liquids, but it is not possible to reach all contaminated areas by hand. Russian scientists are planning to deliver a powerful anti-bacterial UV lamp in one of the next shipments to combat the growing problem.
You can share this story on social media: