Israeli soldiers who used boy as human shield set free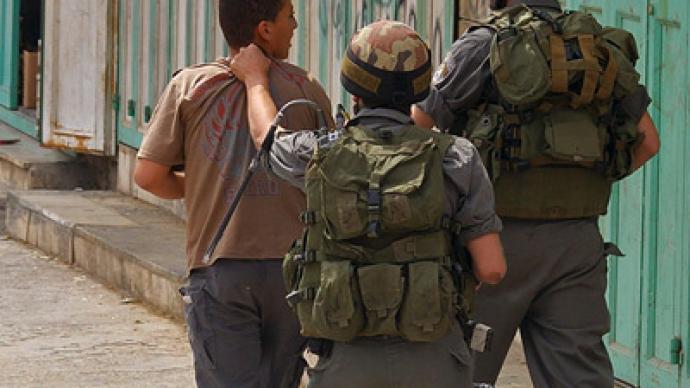 An Israeli military court has let two of its soldiers walk free, after they were convicted of using a nine-year-old Palestinian boy as a human shield during last year's Gaza War.
The military court essentially sentenced both soldiers to three month's probation and demoted them from the rank of staff sergeant to sergeant, RT's correspondent in Israel reported. During the Gaza war of 2008-09 the two soldiers approached a Palestinian child and forced him to look inside in a number of bags that the soldiers were fearful had some kind of explosives in them. As it turned out, there was nothing inside the bags and no one was hurt. However, on October 3 the soldiers were charged with using the child as a human shield, which had been considered by the Israeli Supreme Court to be illegal.The military prosecutors wanted to see some kind of jail time, as they were essentially calling on the fact that the soldiers had violated human rights and also what is known as the Israel Defense Forces "Code of Purity of Arms". The sentence for such crimes can be up to three months' imprisonment, but the soldiers got off with a relatively light and conservative sentence. The soldiers themselves have not spoken on camera, but their lawyer did say that they were satisfied with the finding. According to the lawyer, the convicted soldiers felt that they were being used as a scapegoat by the military superiors who ordered the carrying out and that those are the ones who should be brought to court.This court decision comes as a surprise, particularly for human rights groups and left-wing organizations. The Public Committee Against Torture in Israel called the decision of the court "ridiculous". More of such reaction may be awaited as the sentence becomes more public.This is not the only time when Israeli soldiers carry out some kind of violations against Palestinians. For instance, in August 2010, an Israeli soldier uploaded on Facebook pictures of soldiers harming and humiliating Palestinians. Yehuda Shaul, a former Israeli soldier and a founder of the "Breaking the Silence" organization, said that this particular case of a nine-year-old boy used as a human shield was not unusual. The only unusual thing in this instance is that it made it to court in the first place. He provided an example of soldiers using human shields from his own military experience: "What we did is we just bumped into a nearby house, grabbed one of the kids, took him with us and put him in front of the patrol."It has been long felt in Israel that this case is meant to alleviate international pressure, so that the international community can see the Israel Defense Forces are carrying out some kind of internal tracking and internal assessment to make sure such things do not happen again. However, it is unlikely that, with such a conservative sentence, many people in the international community will be satisfied today.
You can share this story on social media: