West Bank summit canceled after Israel bars envoys from entry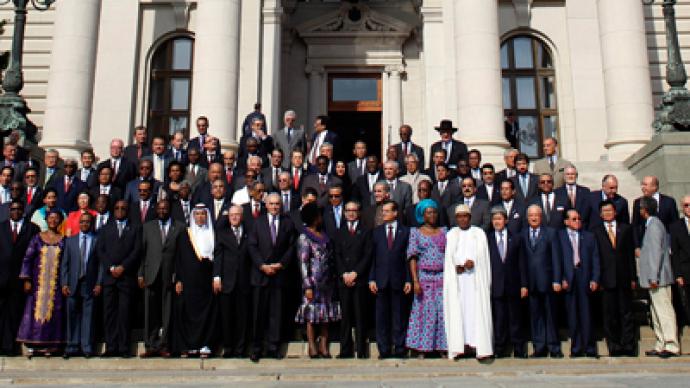 A summit in the West Bank was reportedly canceled after Israel refused entry to foreign envoys from the Non-Aligned Movement (NAM). The meeting was planned to discuss the Palestinian bid for statehood in the UN.
The NAM is a group of nations that are neither formally affiliated with nor opposed to any major power bloc, and currently consists of 120 member-states. Israel refused entry to countries without diplomatic ties to Tel Aviv, while granting entry to countries which have connections to the nation, the Jerusalem Post reported.All entry points into the West Bank require an Israeli transit visa, and representatives of Bangladesh, Cuba, Indonesia and Malaysia were refused entry. There are conflicting reports as to whether Algeria's envoy was also turned away.The multiple rejections led to the cancellation of the summit. "After consultation between all the delegations in Amman (Jordan) and the Palestinian leadership, the Ramallah meeting of the Palestine Committee of the Non-Aligned Movement has been cancelled," a senior Palestinian official told AFP.   Entry into the West Bank usually requires a flight into Israel and a journey by road, or transit across an Israeli-manned border checkpoint with Jordan. The Non-Aligned Movement had arranged for a helicopter flight from Jordan to Ramallah – a journey which also requires an Israeli transit visa. "Israel's denial of entry to the foreign ministers who were coming to participate in the Non-Aligned Movement meeting in Ramallah is a blatant and crude exercise of power and a form of political siege," Palestinian official Hanan Ashrawi told Haaretz News.The summit was intended to introduce NAM members to the Palestinian struggle for statehood, and request their support should they attempt to become a member of the UN General Assembly, according to Palestinian Foreign Minister Riyad al-Malki.The Palestinian Authority announced on Saturday that it will file a new application to the UN General Assembly in September, in its bid to be accepted as a non-member state. "The meeting aims to stress the right of our people and leadership to hold conferences on our land and to support our struggle to end the occupation and settlements and establish our independent state with East Jerusalem as its capital," al-Malki told Haaretz News.The US and Israel have both consistently vetoed Palestinian bids for representation in the UN.
You can share this story on social media: