Israel remembers the Holocaust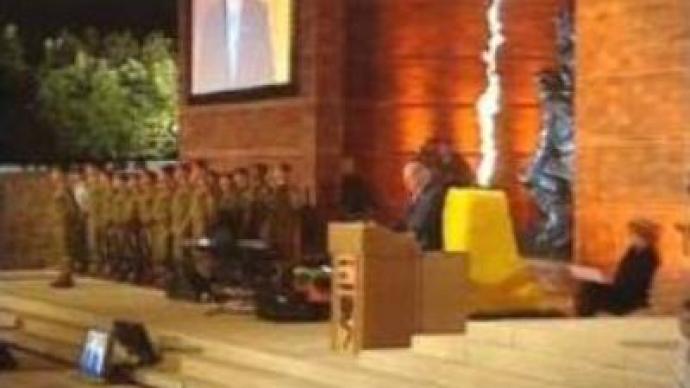 Israel is marking the start of the annual Holocaust Remembrance Day. On this day in 1943 the uprising in the Warsaw ghetto began. The state is commemorating the 6 million Jews killed by the Nazis during WW2.
Israel's Prime Minister, Ehud Olmert, has attended an official ceremony in Jerusalem.The Vatican's ambassador to Israel agreed to attend a Holocaust memorial service at the Yad Vashem museum on Sunday night. This reversed an earlier decision to boycott the event that threatened to upset the fragile relations between Israel and the Vatican. Meantime, for Jewish survivors from the Baltic States, the day has an added poignancy. Many who fled the region are worried about a rise in anti-Semitism and neo-Nazi activity in their home countries.
"When the Russian army fled from Latvia, I was running after them with my gun and shooting them in the back. Those who were left on the floor I was putting in the grave,"
said Gunther Goenretz, Latvian Waffen SS veteran. Whereas in other modern Western countries, he would have been hunted down and persecuted, in Latvia Gunther Goenretz has become a national hero. Each year the Latvian Minister of Defence leads a parade of former Nazi veterans. The government has given them back their property; they have a museum dedicated to them. A few weeks ago, in another Baltic state, Estonia, locals tried to remove a statue that paid tribute to Russian soldiers who they say were not liberators but occupiers.
"Latvians are trying to change history. They say they were occupied twice – once by Germans, once by Russians. But my opinion is that if the Russians did not liberate Latvia, I would not be here to talk to you today,"
says Solomon Fegeyrson, a Holocaust survivor. A bitter pill for the survivors to swallow is the fact that Israel is not putting pressure on the Baltic governments to arrest people like Gunther Goenretz.
"We are very keen to make sure that there is no resurgence of anti-Semitic neo-Nazi movement in the Baltic States but we cannot say this is promoted by the governments of the Baltic States who are assuring us they are very much opposed to it,"
said Tommy Lapid, from the Yad Vashem Holocaust Museum. The official ceremonies began at sunset on Sunday and continue till sunset on Monday.
You can share this story on social media: