Israel rejects Palestinian Unity Government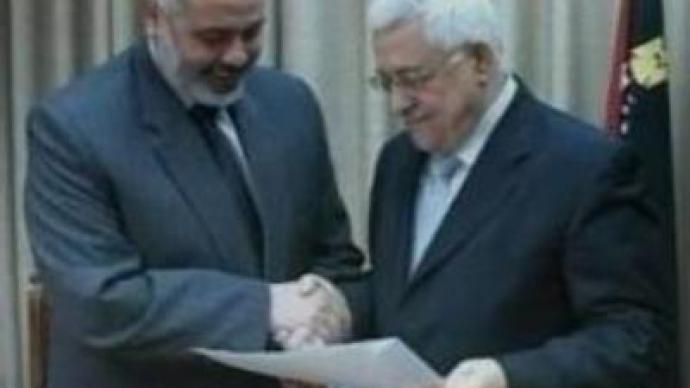 Palestinian rival factions Hamas and Fatah formed a Unity Government on Thursday, ending months of political wrangling. However, Israel has rejected the new alliance saying it won't deal with it.
The line-up for the new Palestinian government includes nine ministers from Hamas and six from Fatah. Palestinians are hoping the new coalition will end months of bloody internal factional fighting and result in the international community lifting crippling economic sanctions.Meanwhile, Israel says it won't deal with the new Unity Government because its programme falls short of the three international conditions for acceptance: recognising the Jewish state, renouncing violence and accepting previous peace deals.
'Accordingly, Israel will not deal with this new government. And we hope that the international community will stand firmly by its own principles and refuse to deal with a government that says "no" to peace and "no" to reconciliation,'
Mark Regev, Israeli Foreign Ministry Spokesman, stated.The United States and the EU have not yet decided whether they will lift economic sanctions. Although, Prime Minister Ismail Haniyeh says he received signals the Europeans are ready to work with his new government.
'No doubt there is a different position from the American Administration and the Israelis. We are going to do what's needed for us as for Palestinians to support Palestinian national unity, and to remove the siege of the Palestinian people, and, also, to strengthen relations with the international community,'
he outlined. The new government has indicated it will respect previous agreements between Israelis and Palestinians and work towards the release of kidnapped Israeli soldier Gilad Shalit as part of an honourable prisoner exchange deal.On Saturday the Palestinian Parliament will vote to accept the new government or not. As expected, the Unity deal between Hamas and Fatah will be approved. Meanwhile, Moscow has welcomed the Unity agreement, calling it a big step towards the unification of the Palestinian people. However, Russian officials say the new government will be expected to meet the requirements of the so-called 'Middle East roadmap'.
You can share this story on social media: