Israel hits Palestinian targets in response to Gaza rocket fire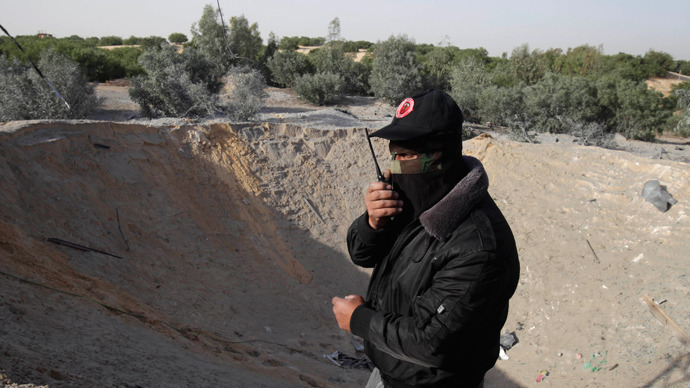 Israeli aircraft have launched a strike on a Palestinian radical group in Gaza in response to insurgents' rocket fire, the Israeli military say.
There were no casualties from the strike, according to the Democratic Front for the Liberation of Palestine. The group said the jets hit one of their training bases in the southern Gaza Strip.

Conflicting reports suggested that there were at least three Israeli airstrikes. Two of them hit the southern town of Khan Yunis, targeting positions of the Al-Quds Brigade, which is the armed wing of Islamic Jihad. The third one was near the southern town of Rafah along the Egyptian border, Palestinian witnesses told AFP.

In addition to the airstrikes, the IDF said it closed the Gaza goods crossings as a sanction against the rocket fire.
Earlier, a rocket landed in an open field in southern Israel, but did not cause damage or casualties, an Israeli military spokesperson said. There was no immediate claim of responsibility from any Gaza militant group.

"The IDF will not tolerate any attempt to harm Israeli civilians, and will not allow for a return to the reality before Pillar of Defense where Israeli civilians are threatened," the IDF stressed in a statement following the strikes.

A rocket attack at the beginning of April attack broke the November truce between Gaza and Israel that followed an eight-day Israeli military operation in Gaza, Pillar of Defense, during which over 100 Palestinians and two Israeli citizens died.
Following the April assaults on the town of Eilat in southern Israel, the country's Prime Minister Benjamin Netanyahu pledged to continue Israel's tactics to deal with such provocations.

"Those responsible [for the Eilat attack] were apparently members of a terrorist cell that left Gaza and used Sinai in order to attack an Israeli city. This is unacceptable. We will exact a price for this; this has been our consistent policy for the past four years and it will serve us here as well," Netanyahu said.