Israel marks independence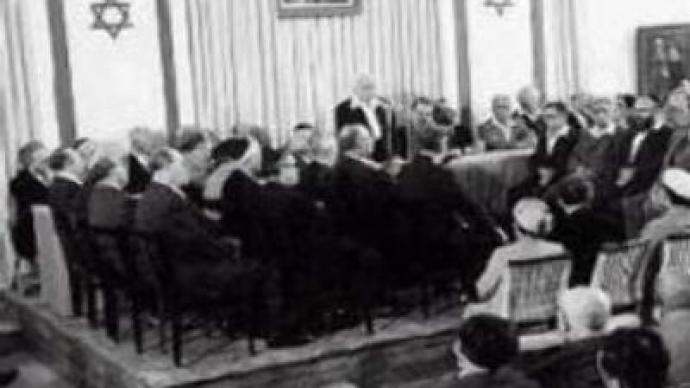 Israelis are celebrating Yom Ha'atzmaut, Israel's Independence Day. The USSR played a significant role in the history of the state as the leader of the eight Eastern bloc countries that voted in favour of its sovereignty.
This Tuesday on the streets of Israel, crowds celebrate the birthday of the state. But 52 years ago on November 29 the same streets were empty. Most Israelis were at home, glued to their radio receivers, listening to the United Nations deciding the future of the Jewish people. The General Assembly was voting on the partition plan, providing the creation of an independent Jewish state in Palestine. The final count – 33 in favour, 13 against, and 10 abstentions.The Eastern bloc vote was critical. The USSR set the example for these eight countries – voting in favour of Israel.
"If not for the support of Russia, there'd be no state of Israel. Later on Russia made a turn and became antagonistic to Israel, but the creation of Israel is only thanks to Russia,"
believes Yariv Ben Gurion, grandson of David Ben Gurion, the first Israeli Prime Minister.The day after the UN plan was adopted the fist victims of what would later be called Israeli War of Independence came. Shootings and bomb attacks by both Arab and Jews thousands were killed over the next few months. As the expiration date of British Mandate was approaching, an invasion by neighbouring Arab states seemed inevitable.On May 15 the Jewish National Council formally announced the Israeli declaration of independence. Days after the troops of five Arab countries attacked Israel. Without an army, the Jewish state's chances of survival were slim. Once again, the Russians stepped in to help, initiating supply of armaments for the under-equipped Israeli army from communist Czechoslovakia.Over the years the relationship between Israel and Russia has had its ups and downs. Following the Six-day war in 1967, when Israel launched a surprise attack on the Soviet allies Egypt and Syria, the Russians decided to cut all ties. They were re-established only in 1991 after the collapse of the Soviet Union.
You can share this story on social media: