Hamas threatens Israel with revenge if hunger strikers die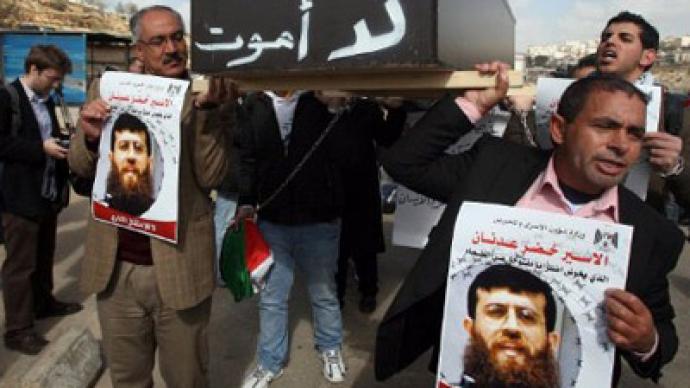 Hamas threatens Israel with "unexpected" consequences if any of around 2,000 Palestinian prisoners who went on hunger strike in Israeli prisons were to die. Two of them held without charge or trial have been starving themselves for 67 days.
A Hamas leader warned Israeli authorities that "hunger strike isn't a party" and that the Palestinian leadership could be "surprised" if some of the prisoners die."If that happens, you can expect both the expected and the unexpected from us," Khalil al-Haya said to AFP.The warning comes amid reports that 10 hunger-strikers have been hospitalized on Saturday.The two men – Bilal Diab and Thaer Halahleh – who began their strike almost 70 days ago are believed to be in a critical condition. However it was not reported if they were among those hospitalized. On March 1 Diab and Halahleh began a hunger strike to protest the Israeli practice of holding Palestinians in administrative detention without trial or having formal charges leveled against them.Israel makes wide use of so-called "administrative detention," which can mean spending months and even years in prison without trial.Their protest is the longest-lasting hunger strike by Palestinian prisoners in Israeli jails. On April 17 they were joined in the strike by other prisoners: different estimates suggest from 1,500 to 2,500 Palestinian prisoners began refusing food 19 days ago.In addition to calling for an end to the practice of administrative detention, prisoners demand an end to solitary confinement and visitation by family members from the Gaza Strip. They also want Israel to reverse the decision to ban prisoners from engaging in academic studies and reading newspapers.On Friday, Amnesty International issued a "call for urgent action" from individuals around the world to contact Israeli authorities to demand the release of the two men.Amnesty says they are at "immediate risk of death" on their 67th day of hunger strike. Their fate raised concern of the UN envoy for the Middle East, Robert Serry, who is "deeply troubled'' by the situation and urged Israel to "preserve the health of the prisoners.''Diab, 27, has been detained since August, while Hahalha, 34, has been held since June 2010.On 3 May, the Israeli Supreme Court delayed ruling on the appeal against their detention without charge or trial.They were reportedly transferred to an Israeli hospital on Friday. In total, 10 Palestinian prisoners were transferred to Israeli hospitals as a result of the hunger strike, according to Riyad Mansour, the Palestinian envoy to the UN. Both prisoners belong to the militant group Islamic Jihad, which has carried out attacks that have killed Israeli civilians.Earlier the group warned of reprisal attacks if any of them died.Palestinians have held rallies in Gaza and the West Bank in support of the prisoners, many of them ended up with clashes between Israeli security forces and the protesters. Around 400 Palestinian prisoners are being held in Israeli jails under administrative detention. Four years ago there were more than 1,500. The UN Special Rapporteur Richard Falk condemned Israel's treatment of Palestinian prisoners on Wednesday.In a statement he issued to the media from Geneva, he said he was appalled by human rights violations against Palestinians in Israeli prisons.
You can share this story on social media: