Israel may invade Gaza over recent cross-border attacks – reports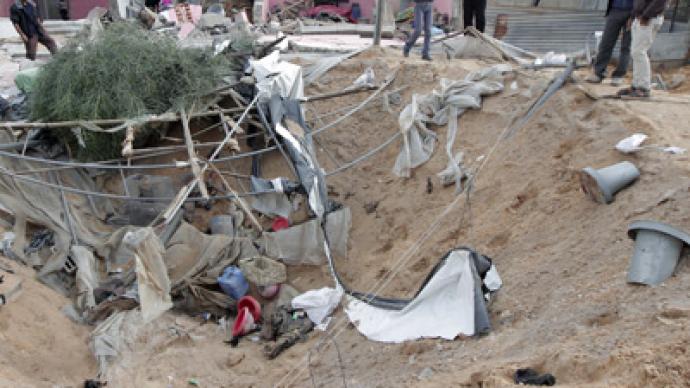 Israel has not ruled out invading Gaza following cross-border attacks between the IDF and militants. The violence drew comparisons to the 2009 invasion of Gaza, and some accuse PM Benjamin Netanyahu of orchestrating the unrest as an election ploy.
Following a Cabinet meeting on Sunday morning to discuss the rising violence over the weekend, an Israeli official speaking on condition of anonymity told the Telegraph "a ground incursion [into Gaza] is certainly not out of the question," if the violence continues. Israel carried out several airstrikes in Gaza overnight targeting a smuggling tunnel and a rocket launch site in northern Gaza. The Israeli Defense Force (IDF) confirmed it would intensify its airstrike campaign on Hamas targets.Over the weekend, six Palestinians were killed, including three children, and eight Israelis injured in the mounting cross-border rocket and mortar fire.The escalation in violence prompted strong rhetoric from the Israeli government, with Prime Minister Netanyahu promising that Israel would respond to the attacks. President Shimon Peres dismissed the attacks as "idiotic," and said there was need for an immediate and strong response."If they shoot, we have to respond fully and immediately. There is no room for any consideration," he said in an interview with the Jerusalem Post. Saying that you cannot choose "your parents or your neighbors," Peres urged a political solution to the crisis, calling on the government to immediately resume peace talks with the Palestinian Authority.
Election tactics? Israel to vote next January
The swift rise in violence over the weekend has prompted widespread comparisons in the press to Israel's last incursion into Gaza in 2009. The 22-day-long ground assault on Gaza that year came in response to Hamas rocket fire, and preceded the Israeli elections. The 2009 conflict killed up to 1,400 Palestinians and saw Israel accused of multiple uses of white phosphorus in their bombing of Gaza. Despite IDF denials, Amnesty International said they had "undisputable evidence" white phosphorous had been used against civilians, constituting a war crime."In terms of a foreground invasion of the type we saw in 2008 and 2009, I believe the Israeli government is laying the groundwork for a possible action of that sort. Haaretz is reporting a global Hasbara offensive designed to bolster public opinion among Israeli supporters in favor of a forestalled attack, and simultaneously the Times of Israel has reported a diplomatic offensive aimed at generating support for continued Israeli aggression in foreign capitals. So Netanyahu is trying to move some pieces in the place but at the present time I think he recognizes they simply aren't there," Gaza-based activist and writer Joe Catron told RT.Israeli Defense Minister Ehud Barak said that the country's January elections will have no bearing on Israel's response to fire from Gaza. "The upcoming elections in Israel are not and will not be a source of immunity for Hamas, we will strike with an ever-growing intensity," he said in Tel Aviv. But the Israeli elections could be the reason behind the renewed Israel-Gaza hostilities, international activist Joe Carton argues. "[The] political and diplomatic challenges the Netanyahu administration is facing have a lot to do with its current aggression here. There are other factors as well. The upcoming Israeli elections, this is certainly has something to do with bolstering support for the new Netanyahu-Lieberman alliance, as well as the US elections – Netanyahu took a big gamble there and lost, and everyone is waiting to see what the consequences of that would be. So what we're seeing in Gaza right now is I think Israel attempting to bolster an increasingly weak international position," Carton told RT.Hamas' leadership accused Prime Minister Netanyahu's government of orchestrating the weekend violence in order to drum up votes in the coming elections. Hamas spokesperson Fawzi Barhoum warned that "Hamas will not let Palestinian blood be a price for Israeli political and electoral gains."Cross-border violence between Israel and Gaza is relatively frequent, but usually trails off within a few days. However, Hamas has recently begun carrying out attacks on targets inside Israeli territory.
You can share this story on social media: