Tel Aviv 'exodus' planned in event of missile strike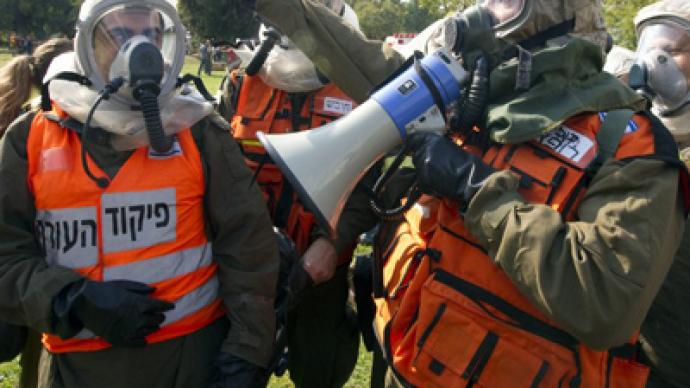 Israeli authorities are prepared to completely evacuate Tel Aviv in the event of a missile attack, especially one deploying "unconventional" warheads, a commander heading the country's central region has said.
Fears within Israel of a military backlash amid threats of a unilateral strike against Iran over the country's uranium enrichment program seem to be coming to a head.Today, "every civilian is threatened in Israel," Colonel Adam Zusman, chief of the Home Front Command in the Tel Aviv Metropolitan Area, told AFP."In case of a missile attack on the center of Israel, especially unconventional, the population from Tel Aviv and other cities will be evacuated and relocated in other areas of the country," he warned."Massive evacuations will take place in case of unconventional attacks and if buildings are destroyed by a missile," Zusman continued.The colonel echoed past claims that the country is under continual regional threats from Iran and its allies, specifically the Lebanese-based Hezbollah and a Gaza Strip under Hamas control.However, Zusman made no mention of the fact that any Iranian attack against Israel would likely be retaliatory, as the country's Prime Minister Netanyahu warned "the threat of a nuclear Iran must be turned aside."Netanyahu further intonated that such a strike "is not days or weeks away, but neither is it years away."Zusman said that despite the fact that Israel touts the Iron Dome rocket shield – the "most sophisticated" anti-aircraft system in the world –  no system could provide total protection."We estimate that in case of war, hundreds of missiles will hit Tel Aviv and its nearby cities. As a result of these attacks, there will be hundreds of Israeli casualties.""In the next war, nobody will be able to drink a coffee in Dizengoff," he said, in reference to the major downtown artery one known as the Champs-Elysees of Tel Aviv."We are getting ready for the worst-case scenario," he continued.With a population of just over 400,000, Tel Aviv is Israel's second-largest city.  The Tel Metropolitan Area, or Gush Dan, boasts over 3 million people, some 42 per cent of the country's entire population, making such a mass evacuation a potential logistical nightmare.While Zusman said air raid drills and preparedness exercises at hospitals to deal with a mass influx of casualties in the event of an attack had been undertaken.This past March, Israel held "the Hit to the Heart" rocket attack drill in response to reports that Hamas possesses Fajr-5 rockets which are capable of striking in the heart of central Israel.Tehran has long maintained any strike against Iran would be met with a missile strike that would hit Tel Aviv "before the dust from the enemy attack settles."However, despite the Israel's advanced missile defense systems and preparedness drills, Zusman admitted the civilian population remained vulnerable, especially in regard to a chronic lack of gas masks and shelters.The head of Israel's parliamentary committee for home front preparedness told RT in April that 1.7 million people did not have adequate shelter and 3.5 million did not have gas masks.He further said that even if factories received the necessary finances, it would take a minimum of two years the fill the gas mask gap.
You can share this story on social media: