Israel approves release of Palestinian prisoners, new housing tenders expected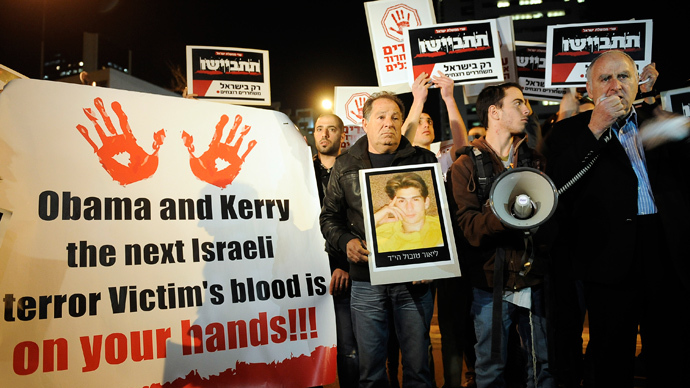 Israel has approved the release of a third group of Palestinian prisoners as part of US-brokered peace talks. However, Tel Aviv is expected to once again announce new housing tenders in West Bank settlements, despite international criticism.
The Ministerial Committee for Prisoner Releases signed off on the release of 26 Palestinian prisoners late on Saturday. The inmates, who have already served between 19 and 28 years in jail, were sentenced to life imprisonment after being charged with murder or accessory to murder.
The release is the third one to take place since Israeli-Palestinian peace talks resumed in July. The fourth and final release is set to occur at a later date.
A list of the prisoners' names has already been made public. The release will take place at least 48 hours after the details were initially published; the extra time is given so that anyone who objects can appeal to the High Court of Justice.
The inmates will be set free sometime during the night between Monday and Tuesday, Haaretz says.
Despite widespread criticism from the Palestinian Authority and the international community, Israel intends to announce the construction of 1,400 new homes in West Bank settlements. Palestinian negotiator Saeb Erekat warned that peace talks will be destroyed if the announcement takes place.
Meanwhile, Israeli Prime Minister Benjamin Netanyahu is facing domestic opposition to the move.
"I am angry that the prime minister and other elements in the government are tying the prisoner release with construction," Haaretz quoted Science Minister Jacob Perry (Yesh Atid) as saying on Friday. "Will the bereaved families be consoled by the fact we're going to build a thousand more [housing] units in Itamar or Alfei Menashe? What's the connection? This irritates me."
The UN, the European Union, and even Washington have expressed concern and criticized the possible announcement.
Israel announced new settlement projects after the first and second releases of Palestinian prisoners in August and October.
The US is playing a large role in negotiations between the Palestinian Authority and Israel. According to Israel's Channel 10, US Secretary of State John Kerry offered to free convicted Israeli spy Jonathan Pollard once Tel Aviv frees the fourth and final batch of prisoners.
Pollard is a former civilian US Navy intelligence analyst. He was sentenced to life imprisonment in 1987 after being charged with spying on the US for Israel.
Kerry plans to travel to Jerusalem and Ramallah to meet with Netanyahu and Palestinian Authority President Mahmoud Abbas on January 1. One of the key topics up for discussion is the Israeli-Palestinian peace talks.
You can share this story on social media: