Israeli airstrike in Gaza kills one Palestinian, reportedly a militant
Published time: 30 Apr, 2013 07:55
Edited time: 30 Apr, 2013 10:39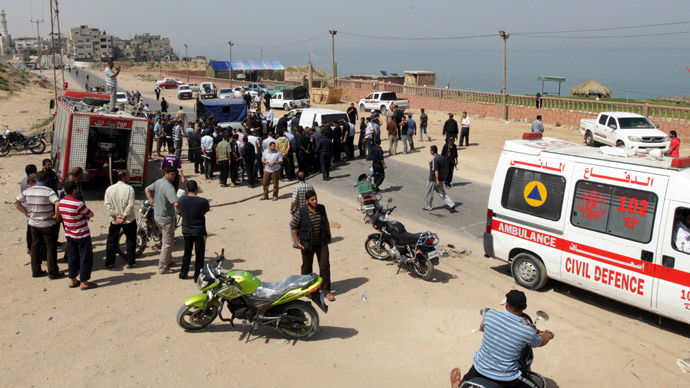 An Israeli airstrike has killed a Palestinian motorcyclist and wounded two other people in Gaza. The attack is the first deadly airstrike carried out by Israel since a November ceasefire.
The Israeli military said the airstrike killed Haitham Mishal, whom it identified as a jihadi militant involved in the April 17 rocket attack on the southern Israeli resort town of Eilat.
But Gaza's health ministry spokesman, Ashraf al-Kidra, told AP that Mishal was a Palestinian police officer.

Israel Defense Forces (IDF) insisted that Mishal belonged to a militant Jihadist Salafi organization.
"Mishal acted in different Jihad Salafi terror organizations and over the past few years has been a key terror figure, specializing in weapons and working with all of the terror organizations in the Gaza Strip," IDF said in a statement. It said that he manufactured weapons and specialized in rockets and explosive devices that he sold to militant groups.
A source from Israel's internal security service Shin Bet told Haaretz that Mishal's assassination was carried out "to prevent future attacks from the Gaza Strip and Sinai" planned by other terrorists. Sources in the defense establishment also noted that Mishal's terrorist activity "was certainly known to Hamas but it avoided taking action."

The attack comes just two days after Israeli Prime Minister Benjamin Netanyahu warned of a strong military response to sporadic rocket fire into Israel.
"I had said we would respond," Netanyahu said in a statement. "We will not accept continuous fire from the Gaza Strip and Sinai, and we will and are working to protect the State of Israel."
Israel and Gaza's Hamas rulers engaged in eight days of heavy fighting last November, before reaching an Egyptian-brokered truce.

The truce has begun to unravel in recent weeks, with Palestinian militants firing rockets into open areas of southern Israel. The Israeli air force has responded with airstrikes on training sites and open areas in Gaza.

Hamas is not believed to have been involved in the rocket fire, and small Al-Qaeda-influenced militant groups have claimed responsibility. But Israel said it holds Hamas, as the ruling power in Gaza, to be responsible for all the attacks.