End of career? Pole vault queen Isinbaeva takes gold, grabbing third world champion title (PHOTOS)
Published time: 13 Aug, 2013 17:52
Edited time: 13 Aug, 2013 19:40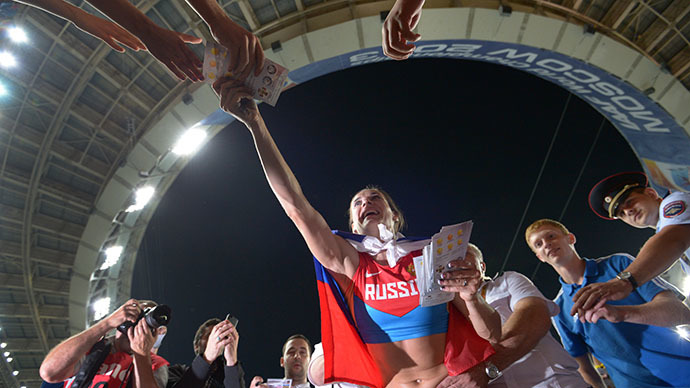 The Olympic champion and 28 record holder in women's pole vaulting, Elena Isinbaeva, caps her glittering career with success at Moscow World Championships. This may be the Russian's last major championship final.
The pole vaulting finals in Moscow's Luzhniki stadium gathered thousands of spectators who came to watch  the outdoor world record holder of 5.06 meters.
Starting at the height of 4.65 meters, Russian pole vaulter Isinbaeva took the gold with the result of 4.89, becoming three-time world champion. The home crowd was roaring her every jump.

Елена Исинбаева после выступления на Чемпионате мира в Москве pic.twitter.com/WJCkneL2jN

— РИА Новости (@rianru) August 13, 2013
Isinbaeva's victory was met with a chorus of "Elena! Elena!" reverberating around the stadium and greeted with cries of delight. When gold was assured she ran to the crowd and embraced her coach.
The main rivals in the fight for gold were the London 2012 Olympic champion the American Jenn Suhr, and the Cuban athlete Yarisley Silva. Suhr and Silva both failed to clear 4.89 meters, with the American claiming silver on countback from the Cuban after both had cleared 4.82 meters.

The XIV World Athletics Championships are being held in Russia's capital for the first time. It is one of the biggest sporting events in the world. A record number of participants have registered for the games: 1,974 athletes (1,106 men and 868 women) from 206 countries will compete for medals in the Luzhniki sports arena.
Elena Isinbaeva HUGGING MASCOT upon winning Pole Vault in front of her home country @yelenaisinbaeva#moscow2013pic.twitter.com/wqi930kV3M

— Flotrack (@Flotrack) August 13, 2013
Although, Isinbaeva tried to score a world record during the championship, she could not make the leap of 5.07 meters and break her previous success.
However, the Russian athlete and the American Suhr are the only women who have cleared 5 meters.

This may be Isinbayeva's last performance at major championship finals, as the 31-year-old athlete has said she wants to take a break and devote herself to creating a family. Although she rowed back from that after qualifying to the final on Sunday, saying her mind was not made up.

"I'm not talking about retirement. As of now I'm just going to take a break! I'll miss 2014. Hopefully, I will be busy with pregnancy. I really want to have a baby! And then I'll try to come back. If all goes well, I will still compete for gold in Rio 2016," Isinbayeva told 'Ves' Sport' periodical. 

Hugs and kisses all around....isinbayeva wins gold....the fairy tale is complete! #wcpic.twitter.com/ySjDWfnE9E

— Katharine Merry (@KatharineMerry) August 13, 2013
Isinbaeva's story of world records in women's pole vaulting started on July 13, 2003 during the British Grand Prix in Gateshead, where she scored gold with a record result of 4.82 meters.
At the 2004 Summer Olympics in Athens, the athlete won her first Olympic gold medal setting a new world record of 4.91 meters. At the World Championships in Paris in 2003, the Russian athlete was considered a favorite, however she lost to Svetlana Feofanova and the German Annika Becker, taking the bronze.
In Monaco's Gran Prix on July 30 2008, the pole vaulter broke another world record by clearing 5.04 meters raising the previous record by 1 centimeter.

At the 2008 Olympics in Beijing, Isinbaeva took her second gold setting an Olympic record of  4.95 meters following a world record of 5.05 meters.
The athlete, dubbed the "pole vault queen", started the 2009 season by becoming the first woman to overcome 5 meters indoors.  She first raised her world indoor mark with a vault of 4.97 meters, then raised the bar to 5.00 meters and cleared that height as well. The two marks were set at the Pole Vault Stars indoor meet, on 15 February, in Donetsk, Ukraine.
She easily reached the finals of the World Championships in Berlin in 2009, but was not able to pass any height. After the competition, Isinbaeva said she had lost the necessary concentration. However, on August 28 of that year at the 5th stage of the "Golden League" in Zurich, she set her 27th world record by clearing 5.06 meters.
In April 2010, her performance at the Indoor World Championships in Doha, Qatar wasn't crowned with success. The word-record holder surprisingly took a break for an 'indefinite time' to heal her injuries.
"After more than eight years of very hard training and competing at the highest levels both indoors and outdoors each year I need to step back in order for my body to properly recover," said  Isinbaeva.

On February 6, 2011 the athlete made an astonishing comeback. She appeared at the "Russian Winter" tournament taking the height of 4.81 meters – the world's best in that season. While on February 23, 2012 at the Grand Prix in Stockholm, she set a new world record in her category – 5.01 meters.
If Isinbaeva returns to sport, the athlete has said that she plans to catch up and surpass Sergey Bubka – Ukranian pole vaulter, repeatedly voted the world's best athlete – for a number of world records.