Ireland passes controversial law allowing abortions in medical emergencies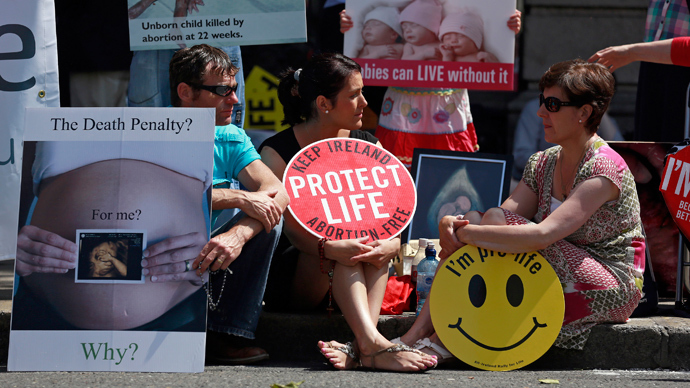 The Irish parliament has passed new legislation permitting abortions in cases of medical emergencies or if the mother is suicidal. It comes eight months after a woman died after being refused a termination at a Galway hospital, sparking mass protests.
The 127-31 vote on Friday comes after a European Court ruling stated that Ireland's old law needlessly endangered the lives of pregnant women who were already in life-threatening situations. The bill will now be considered by the Seanad – Ireland's upper house of parliament.
The Government expects the law to be enacted before the Irish parliament breaks for summer on July 18. The law was always forecasted to pass, despite the fact that several members of the coalition government fought against it.
The bill was voted on last week, but Prime Minister Enda Kenny's collation government, which is led by the Fine Gael party, voted on a number of key amendments to the law on Wednesday.
The first amendment was proposed by TD Richard Boyd Barrett, a member of Irish parliament, who said he wanted the bill to ensure that a woman's life was never again to be put at risk.
Socialist parliament member TD Joe Higgins said the legislation's current form was "cowardly." He added that serious issues like fatal fetal abnormalities had been "completely ignored." He said he wanted his amendments to focus on the "health of the pregnant woman."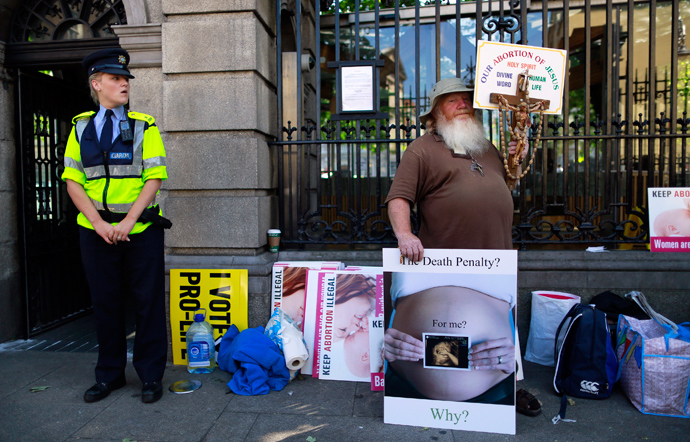 Independent member of parliament TD Catherine Murphy said the bill was the absolute "bare minimum" and that there would be "further tragedies."
Dozens of anti-abortion campaigners and a handful of pro-choice protesters gathered outside the Dáil on Tuesday evening.  The Catholic Church made one last minute appeal on Wednesday morning, urging TDs (parliament members) to vote against the abortion bill.
Pro-life groups have staged demonstrations, voicing their opposition to the law. Politicians and campaigners supporting the legislation have received hate mail and death threats. 
A woman's right to have a safe and legal abortion has long been a contentious issue in Ireland. The debate was stirred once again after 31-year-old Savita Halappanavar, an Irish citizen of Indian origin, died after miscarrying at a Galway hospital in 2012. She reportedly sought an abortion several times, but was repeatedly denied by physicians.
Savita's husband said that doctors refused to terminate the pregnancy after discovering a fetal heartbeat, telling his wife that Irealand is "a Catholic country."
The 31-year-old woman's death led to nationwide protests across Ireland, particularly among Indian expatriates in the Galway region. Demonstrations also took place in India.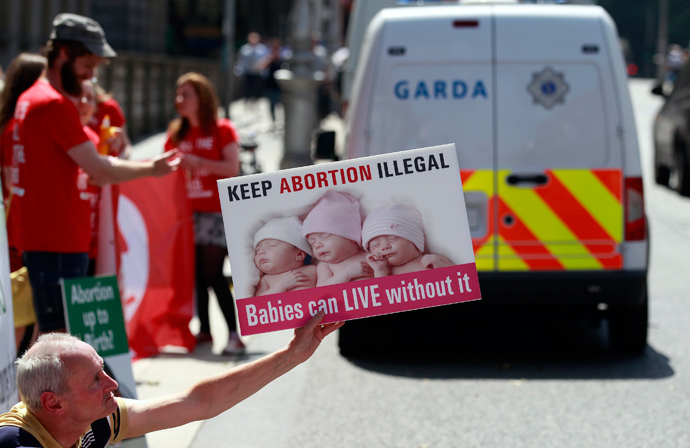 You can share this story on social media: