Iraqi sectarian schism widens as Kurds harbor fugitive VP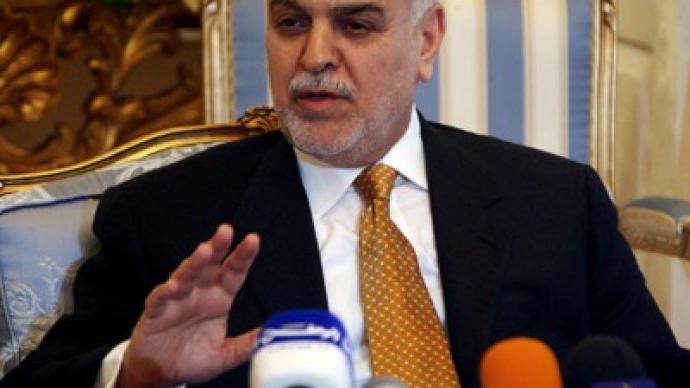 The Iraqi Prime Minister has demanded that Kurdish authorities hand over the country's Vice President Tariq al-Hashemi, who fled to the country's Kurdish region to evade an arrest warrant issued on terrorism charges.
­"We call on the government of the Kurdistan region to … hand over Hashemi to the justice system," said Prime Minister Nouri al-Maliki on Wednesday in his first official comments on the arrest warrant. "If [Kurdish authorities] will not hand him over or let him flee or escape, this will lead to problems."

Tariq al-Hashemi is accused of paying his bodyguards to target government officials in 2006-2007, and was banned from leaving the country on Sunday. But by Monday, when the warrant was issued, Al-Hashemi had already moved to Iraq's semi-autonomous Kurdish region. The move provided the VP with significant immunity to the arrest warrant, given the region's special status.

Al-Hashemi denies the allegations, saying they were fabricated based on political motivations. On Monday, he accused the Prime Minister of forcefully consolidating power and undermining the national reconciliation between Sunni and Shiite Muslims.

The arrest of al-Hashemi, the country's highest-ranking Sunni official, could reignite sectarian violence in the country, experts say. Meanwhile, it is Shiite PM al-Maliki who effectively runs the Interior Ministry – where the charges originated.

The situation is complicated further by VP al-Hashemi's bloc Iraqiya, which is boycotting Cabinet decisions, while the Prime Minister is threatening to suspend the rebelling ministers.

Al-Maliki took power from al-Hashemi after Saddam Hussein was toppled during the US-led invasion in 2003. Many Sunnis, who make up just over 30 per cent of Iraq's population, fear that Shiites want to prevent them away from regaining power.

The scandal follows the departure of the last remaining US troops from the country, leaving behind what US President Barack Obama called a "sovereign, stable, and self-reliant Iraq."
­'Iraq signaling that it will solve problems on its own'
­While some experts fear tensions between the Sunni minority and Shia majority in Iraq appear to be coming to a head, Peter Mark van Buren, a twenty-year veteran US diplomat, told RT that it is a signal that Iraqi soldiers are going to solve domestic problems on their own.

"I don't know if the [US] troop presence itself was a stabilizing factor, because we have in fact been drawing down and pulling back into the operating bases for quite some time. I think what was significant about the timing is that a signal that the Iraqis are going to solve these problems their own way, possibly with violence, but that the US is no longer in charge in Iraq."
Van Buren believes that the American military presence in Iraq was a symbol at the end more than anything, and adds that al-Maliki could have done what he did a week earlier, or a week later.
"But in choosing to do [these things] literally the day the American soldiers left, he was sending a message to his rivals that he was not going to be corralled, and he was particularly sending a message to the US that their influence was ending."
­
­Robert Naiman, Policy Director at the Just Foreign Police think-tank, points out the fact that there is a sectarian political conflict, but this has not yet caused a spike in violence.
"Even if the political forces in Iraq were simply waiting for the US to withdraw in order to settle political scores, that's no argument against the US withdrawal, unless … the idea was that the US should stay forever. Let's suppose that the US stayed for another twelve months – then, at the end of that term, we would have the events that are unfolding now."
­