Troops show no pleasure with move to Afghanistan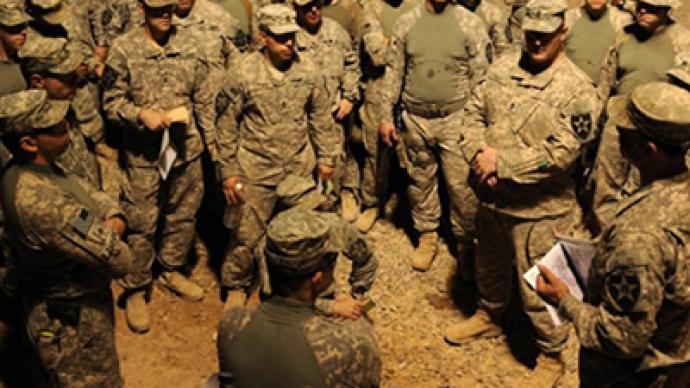 The violence in Afghanistan is now at an all-time high, even by the US' own estimates, but Pentagon military chiefs insist modest progress is being made against the Taliban in the nine-year campaign - despite clashes increasing four-fold since 2007.
Now, American troops in Iraq are gearing up for their move to Afghanistan to boost American-led forces there."Everybody wants to go home, that's for sure, no-one really wants to stay here," American soldier Ariel Tricoche, who currently serves in Iraq, told RT.Tricoche's time in Iraq is coming to an end. He is part of the American forces who have stayed behind to train, assist and equip Iraqi Security Forces.But in its largest movement of troops and equipment since World War II, the US army is moving its supplies from Iraq to Afghanistan."Certain equipment, such as our mine resistant vehicles, our Humvees, those types of equipment, a lot of our rolling vehicles, rolling stock of vehicles, that equipment, yes, will be dedicated towards the mission in Afghanistan," acknowledged Battalion Commander Lieutenant –Colonel Joel Hamilton.But critics warn that moving troops will not help much."When the Afghan people see U.S. forces inside their country, it brings antagonism and makes them turn to terrorism and Al-Qaeda", former Director of Afghan intelligence, Lieutenant-General Abdul Wahed Taqat, points out. "So as more American troops come here from Iraq, it will just make things worse. I don¹t believe the Americans will leave for another fifty years. They have two of their main military bases here and they're now building a third." Americans leaving Iraq also sends the wrong message to the insurgents."The Afghans see Americans withdrawing from Iraq and they think to themselves: ok they are going to withdraw in a year or two – we are going to hold on to things , we'll take control in a year or two-- it doesn't matter," says Yoel Guzansky, researcher on Iran and Iraq at the National Institute For Security Studies.Ariel Tricoche has already been told he'll be transferred from Iraq to Afghanistan. It will be his second time there and he's not looking forward to it."I would definitely say that Afghanistan is a lot more difficult. The terrain is a lot heavier, mountainous regions, we have to do a lot more walking there," says Tricoche.And whether the beefed up presence in Afghanistan will help troops meet next year's deadline to pullout, or make it more difficult, is still unclear.
You can share this story on social media: