Christians continue exodus from Iraq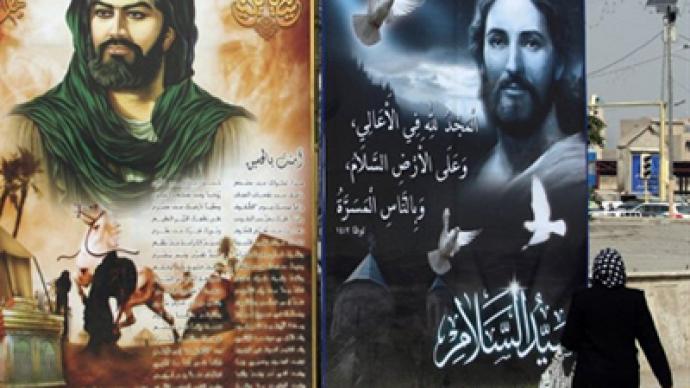 Violence and intimidation have forced hundreds of thousands of Iraqi Christians to flee their homeland.
Experts view them as one of the biggest victims of the 2003 US-led invasion, with the minority group a continued target for extremists.Every night Miriam gets ready for bed with her family. But it is not her bed. It is not even her house. Miriam and her family are Christian Iraqis who have been forced to flee from Baghdad to the semi-autonomous Kurdish region because they have become targets of extremist groups in the country.In 2007, Miriam was hit by a bomb that was planted outside her house."I went out with my aunt just to buy some chocolate and come back. I went out and didn't see anything. I just heard the bomb and I fell to the ground," Miriam tells RT.Miriam was lying in the street with her foot dangling from her leg. Her father, Ayad Ghranm Cherif, rushed outside."I saw my daughter lying on the ground. It was 11 at night," the man recalls. "My daughter was lying on the ground and people were running, shouting. Everything was covered in dust and shards of glass. I picked up my daughter with her leg dangling. I almost lost it. I was shouting 'My daughter's dead. She's been hit by a bomb.'"Luckily, Ayad was able to get her to a doctor, who repaired her leg. But others have not been so lucky. In October last year, 56 people were killed in an attack on the Our Lady of Salvation Church in Baghdad. Dozens more were killed across the country in the following weeks.Many fear that eventually Christians will be driven out of Iraq completely. Of the 800,000 Christians in the country before 2003, almost half have fled. In the past month alone, 4,000 have moved to the comparative safety of the northern Kurdish region.Here they can worship and live in peace, but in leaving their homes, they have lost absolutely everything. Many, like Miriam's father, are now forced to make a living by cleaning toilets in bars and restaurants."I served for seven years in the military under Saddam. I'm an Iraqi Christian and I don't have a square foot of land to my name. Why? What's my crime?" Ayad said.Many in the church feel that countries in the West are responsible."Americans are liars. We don't trust them," says Hawal Khezk Yemishow, director of the Chaldean Center. "Their reputation is terrible, because everywhere they've been they've lied.""The US trained the Sunni and Shia and they just watch while they kill us. It's impossible not to see all these murders, but they don't get involved," he added.It is the end of a long day and time for the family to go to bed. Everyone gets ready and eventually the lights are switched off. In the darkness and uncertainty, Miriam and the rest of her family are left to dream about, and hope for, a better tomorrow.
You can share this story on social media: