Iraqi gunmen afoot to join Syrian insurgency (PHOTOS)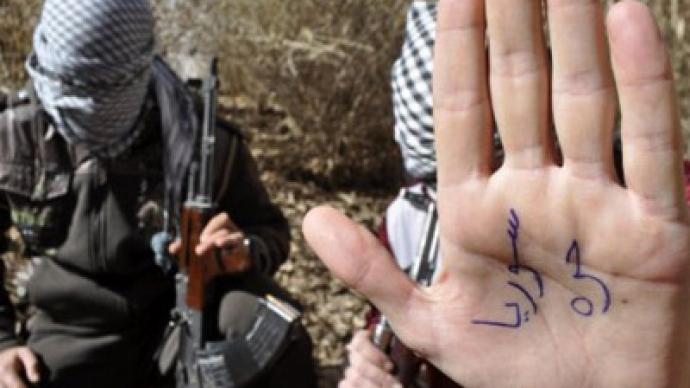 "Free Syria" inscription on the palm of an Iraqi gunman leaves no doubts where he will end up soon. The vivid pictures of masked militants at Iraq's border with Syria speak for themselves.
­The Syrian government has long claimed the opposition was being largely helped by foreigners, and the regime is fighting armed insurgents.Last week the US spy chief told the Congress President Bashar Al-Assad is also fighting against Al-Qaeda of Iraq. James Clapper suggested that Syrian opposition groups, fighting against the existing regime may have been infiltrated by Al-Qaeda.
AFP Photo / Azhar Shallal­Now this armed group claims its aim is to monitor the border area for any "suspicious activity by the Iraqi government to help the Syrian regime," as says the comment to the pictures.The "Army of Free Iraqis" once fought US troops in Iraq. Now the residents of Al-Qaim are "waiting to return the favor to their Syrian neighbors, who once stood by them in that fight."
AFP Photo / Azhar Shallal­Iraqi officials and arms dealers say weapons and Sunni Muslim insurgents were seeping from Iraq into Syria, fuelling violence in the country. Iraqi security officials confirmed there were signs Sunni insurgents have been crossing the border to join Al-Assad's opponents. Gun smugglers are cashing in, as prices doubled for weapons they have brought across the border in commercial cargoes.Baghdad said on Saturday it had reinforced security along its Syrian border to prevent arms smuggling.Iraq has been awash with weapons since the 2003 US invasion that ousted Saddam Hussein and is still plagued by violence from al-Qaeda affiliates.
AFP Photo / Azhar ShallalSyrian state media constantly report of armed militants being behind the bloodshed in the country and targeting mostly civilians.The recent bombings in Damascus and Aleppo killed about one hundred and injured about 400. US intelligence has admitted the bombings "had all the earmarks of an Al-Qaeda-like attack."On Sunday two judicial officials were assassinated by an armed terrorist group, the government said.About a week ago the head of a Syrian military hospital was also killed by members of an armed terrorist group in Damascus which is believed to be the first assassination of a senior officer in the capital since the uprising began. The country now also sees the rise of religious killings.Last week a leading religious figure was assassinated in the conservative Midan area of the capital Damascus. An armed group reportedly intercepted his vehicle when he was returning to the city.The Archbishop in the city of Aleppo points out that Christians in Syria currently fear for their safety, and those who are able to afford it, are leaving the country. Several dozen Christians were murdered in the Syrian city of Homs by insurgents "who are in the pay of NATO", he said in an interview with the Catholic News Agency.At least 2,000 Syrian civilians, soldiers and policemen became "victims because of the hatred" of radical Islamists, he said. The Archbishop also said that those victims often got "tortured, mutilated" before being murdered.Archbishop Jean-Clément Jeanbart added that "the [mainstream] media do not report about the fact that extremists and mercenaries from Turkey, Iraq, Jordan, Libya and Pakistan or from Syria infiltrate the country."But the US and its Western allies insist President Bashar Al-Assad is cracking down on peaceful protesters and pursue their call to topple the regime.­