Half dozen explosions kill 26 people, injure 67 in Baghdad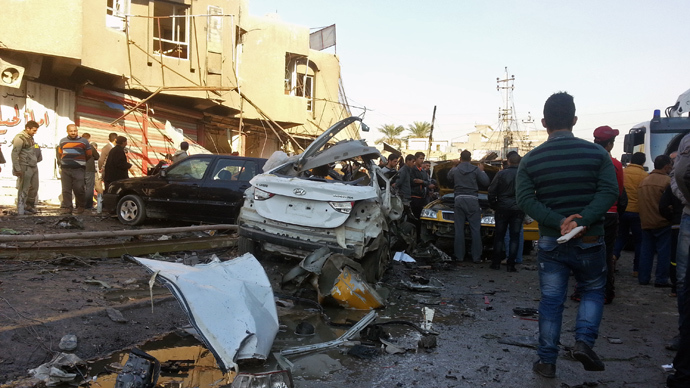 A series of bomb explosions in Baghdad has killed at least 26 people and injured a further 67, reports Reuters, citing Iraqi police and medics.
The bloodiest attack occurred Monday in mainly Shiite Muslim Abu Dsheer district in the south of the capital, where a car bomb blasted near a crowded market killing seven and injuring 18 people.
In total, seven blasts rocked the Iraqi capital, as security forces battled Sunni Muslim militants around the western cities of Falluja and Ramadi, according to Reuters.
There are conflicting reports on the number of victims of today's violence, with Associated Press writing about 16 killed and more than 40 injured.
According to the agency, two explosions went off in the predominantly Sunni south Baghdad neighborhood of Dura. At least three cars loaded with explosives detonated in the mostly-Shiite areas of Baghdad Jadidah, Hurriyah and Bayaa.
No group has so far claimed responsibility for the attacks. But Sunni militants, including those linked to Al-Qaeda are widely blamed for the rise in violence in the republic.
This comes after a wave of violent attacks and blasts in the capital and across Iraq left at least 30 people dead and dozens injured over the weekend.
On Saturday, at least four people were killed and 12 injured when a car bomb exploded near a restaurant in the neighborhood of Mansour in western Baghdad. Another car explosion at the bus station in the eastern part of the city killed four and injured six people, while a blast near one of the hospitals in the north killed four and injured eight, authorities said.
Violence in Iraq has been on the rise over the past year, with almost 9,000 people killed in 2013 which became the bloodiest year for Iraq since 2008, according to UN estimates.
In December tensions escalated further, after authorities broke up an anti-government Sunni protest camp and arrested a Sunni lawmaker on terrorism charges in Anbar province. After that the army was forced to pull back from the province, allowing al-Qaeda fighters to seize control of Fallujah and parts of the provincial capital Ramadi.
Iraqi security forces along with allied Sunni tribesmen have been trying to recapture the overrun territories.
On Sunday, the military launched a major operation on Ramadi to expel militants from parts of the city that have been under their control for several weeks.
You can share this story on social media: