Iran's nuclear programme to dominate talks between Israel and China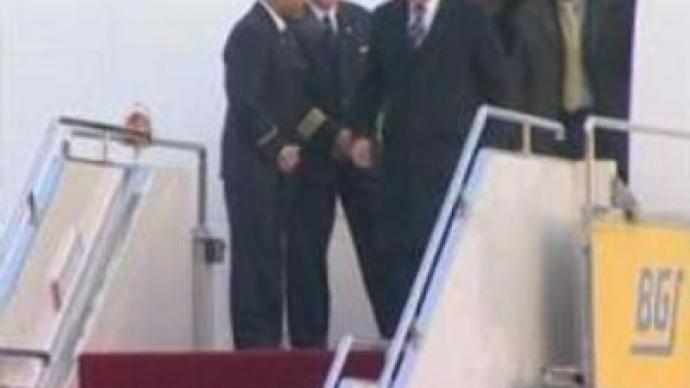 Iran's nuclear programme is set to dominate talks between Ehud Olmert and the Chinese government. The Israeli prime minister is in Beijing for three days of talks aimed at encouraging economic and military ties.
It's been 15 years since China and Israel first established diplomatic ties but relations have not always run smoothly. Seven years ago, Israel cancelled a contract to supply reconnaissance aircraft to Beijing and more recently called off a deal to upgrade existing drone planes- under pressure both times from the United States. And last year Tel Aviv was offended when a leading Palestinian Hamas official was invited to Beijing to attend a conference on Chinese-Arab relations.But trade between China and Israel has flourished and according to the Chinese foreign ministry there is now a spirit of 'profound friendship' between the two nations. And Israeli Premier Ehud Olmert will be hoping this will help secure a tougher Chinese stance against Iran's nuclear programme.China agreed in December to back UN Security Council sanctions against the Islamic state, in an attempt to halt its uranium enrichment activity. But, alongside Russia, it has repeatedly called for the dispute to be solved at the negotiating table- unlike the more hard-line approach favoured by the United States and EU members.Iranian president Mahmoud Ahmedinejad has called for Israel to be 'wiped off the map' and Olmert will be seeking assurances that China intends to continue its stance alongside the Western powers. A positive response from Beijing would be a boost to the Prime Minister whose popularity has slumped since the inconclusive war with Lebanon last year, but China will be keen to maintain good relations with Tehran. It has lucrative arms deals with the Islamic state and, more importantly, relies on Iran for more than 10 percent of its oil imports.Olmert is expected to meet with Prime Minister Wen Jiabao and President Hu Jintao over the next two days.
You can share this story on social media: