Iran's foreign minister to Moscow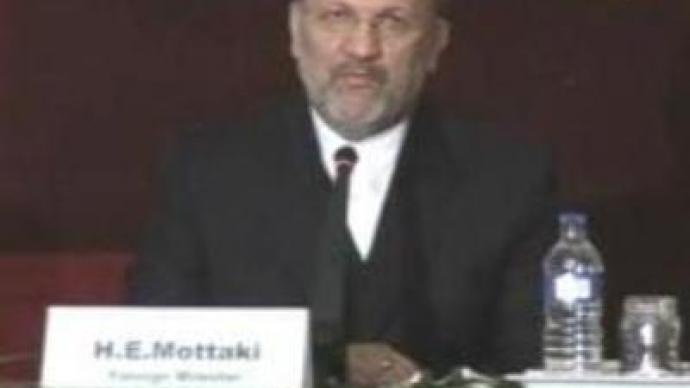 Mr. Mottaki is expected in Moscow on Thursday for talks with his Russian counterpart. The visit comes a week after Russia proposed wholesale changes to a UN draft resolution calling for sanctions against Iran.
The Minister is expected to meet his Russian counterpart Sergey Lavrov. They will discuss bilateral relations and Iran's nuclear programme. Other international issues will also be on agenda. After the talks, the foreign ministers are expected to hold a joint press conference. Meanwhile, the Belarusian president Alexander Lukashenko has met with his Iranian counterpart Mahmoud Ahmadinejad in Tehran. The official visit was aimed at boosting trade and political ties between the two countries. There aren't many international capitals left that will roll out the red carpet for Alexander Lukashenko. The Belarussian President – known in Washington as Europe's last dictator – is persona non grata across much of the world. Brussels has barred him from entry to the EU, along with most of his ministers. Both Europe and the United States have frozen his assets. But Iran's decision to embrace this authoritarian leader shouldn't come as any great surprise. President Ahmadinejad has made a point of ploughing a lone furrow in the world of diplomatic relations. In his Belarussian counterpart, it appears he sees a kindred spirit – someone who's prepared to stand up to Western powers – even at the risk of international isolation. The Iranian leader has described Lukashenko as a 'brave and powerful' leader who's resisted America. He also thanked him for supporting Iran's nuclear programme. From his part, Lukashenko said Belarus shared a common viewpoint on world affairs, and predicted closer ties in the future. He added that his country never doubted the peaceful nature of Iran's atomic industry, and would continue to support them. The two leaders have agreed to boost bilateral trade, and to cooperate over a range of issues in the future – from industry to education.
You can share this story on social media: