Iranian 'time machine' can 'predict' oil prices and wars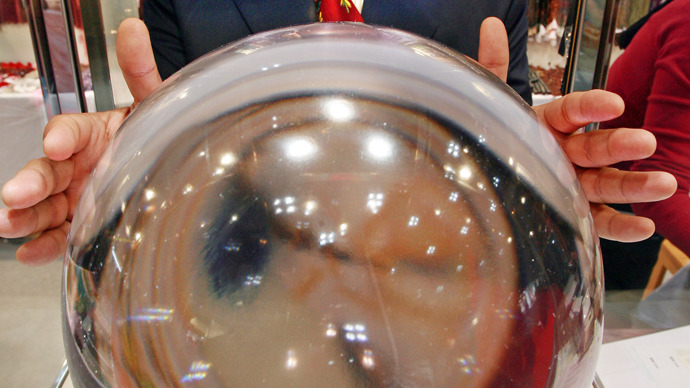 An Iranian inventor claims to have created a 'time machine' that can predict a person's future. He boasts that the device is relatively cheap, but says he has not built one yet because he fears that the Chinese will steal his idea.
Ali Razeghi, 27, has submitted his invention to the state-run Centre for Strategic Inventions for registration.
The device is called "The Aryayek Time Traveling Machine," FARS news agency reported. Razeghi said he worked on his creation for the last 10 years, resulting in a desktop-computer-sized machine that can "predict five to eight years of the future life of any individual, with 98 percent accuracy."
The man, who has 179 other inventions under his belt, eyes governmental applications for his prediction device with uses both civilian and military.
"Naturally a government that can see five years into the future would be able to prepare itself for challenges that might destabilize it," he explained. "As such we expect to market this invention among states as well as individuals once we reach a mass-production stage."
Razeghi also claimed to have beaten competitors working on similar devices: "The Americans are trying to make this invention by spending millions of dollars on it where I have already achieved it by a fraction of the cost."
He added that he is concerned about industrial espionage, as other nations will be eager to learn his secrets. "The reason that we are not launching our prototype at this stage is that the Chinese will steal the idea and produce it in millions overnight," he said.
The news has intruguied the English-language media. However, as the story went viral, the Fars news story became unavaliable as the link now shows an error page.

Predicting the future, even on relatively narrow issues, is a notoriously complex task. It usually requires creating an accurate computer model of a system that takes into account numerous factors, and often requires plenty of computational power. Predicting a future event in its entirety is virtually impossible with existing technology.
You can share this story on social media: