Mossad hit-squads behind Iran scientists' murders - US official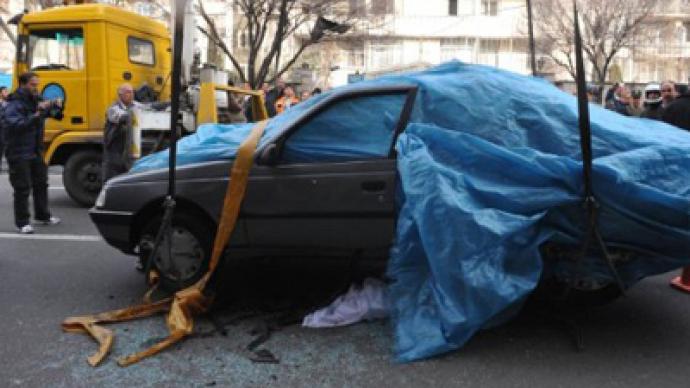 Israel's Mossad trained and financed a terrorist group that carried out a series of Hollywood-style assassinations of Iranian nuclear scientists, unnamed US officials have revealed. Iran, however, believes the CIA was also sponsoring the killings.
Two senior US officials confirmed to NBC that People's Mujahideen of Iran dissident group (MEK) was to blame for the killing of Iranian scientists. "All your inclinations are correct," said one of the officials in an interview, while speaking about MEK's involvement in the assassinations and Israel's support for the group.At the same time the officials have denied US involvement with the group. After the latest attack on January 11, 2012, Iran's Foreign Ministry claimed that it has evidence that the CIA provided "guidance, support and planning" for the operation.The MEK is included in the official US Foreign Terrorist Organization list, which makes it prohibited for US intelligence units to co-operate with and gives them a solid pretext to disclaim any relation to it.Since 2007 the assassination spree has left five top Iranian nuclear scientists dead and delivered a massive blow to the Iranian nuclear program. A suspicious blast at the Iranian missile R&D site that killed the director of missile development for the Revolutionary Guard also seems to be a part of the pattern, even though Iranian officials have declared it to be an accident.After one of the attacks in 2010 was prevented and the Iranian government had a chance to interrogate the assassin, Iran has no doubts that the MEK, which is financed and trained by Israel, is behind the terror campaign against Iranian nuclear program."The relationship [between Israel and the MEK] is very intricate and close," Mohammad Javad Larijani, a senior aide to Ayatollah Ali Khamenei, Iran's supreme leader, said in an interview with NBC.Mossad is secretly training MEK agents in Israel, preparing them to carry out sophisticated operations, Larijani said. For one of the previous attacks Mossad had even replicated the house of a nuclear scientist to prepare MEK assassins, Larijani added.In January's attack, the assailants used a small motorcycle to squeeze through the traffic and place a magnetic bomb on the vehicle of a deputy director of the Natanz uranium enrichment facility. A shaped charge killed only Mostafa Ahamdi Roshan and his driver, leaving no doubts that secret services were involved in the operation.While the MEK is still listed in the US official terrorist group list, the group has managed to lobby for its removal from the terrorist lists of the UK and EU. And a number of former US high-rank officials, including former Homeland Security Secretary Tom Ridge and former FBI Director Louis Freeh, support idea of the MEK's removal from the US terrorist list.
You can share this story on social media: