Combat-ready: Iran to strike mock US base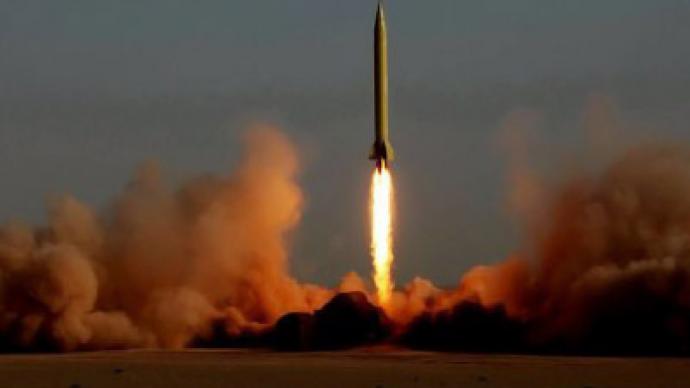 While Iranian lawmakers are still debating whether or not to shut down the Strait of Hormuz, the country's powerful Revolutionary Guards are to conduct a military exercise, during which a replica US military base is set to be hit by missiles.
The Revolutionary Guards say thousands of missiles are to be deployed during the three-day long drill. These include the Shahab-3 ballistic missile, which has a range of 1,250 miles (2,000 kilometers) and is capable of reaching Israel. "All units and missile bases have commenced their preparation and movement to the designated areas," a statement published by the Revolutionary Guards by the official IRNA news agency reads.The exercises, dubbed Great Prophet 7, show that Iran "will decisively respond to any trouble" brought on by "adventurous nations," Brigadier General Amir Ali Hajizadeh, head of the Guard's aerospace division, said on Sunday. A mock air base, akin to US bases in Afghanistan, Bahrain, Kuwait and Saudi Arabia, is to be targeted during the three-day long drill to be held in Iran's Kavir Desert. Iran had previously warned that it would target those bases if the US and Israel went ahead with an attack on Iran. Hajizadeh said an Israeli attack on Iran would give the Islamic nation a "pretext to obliterate them from the face of the Earth" and said the US would not be inclined to help its ally as its bases would be within the firing range of Iranian missiles. The exercises will start on Tuesday, as Iran heads for the negotiating table in Istanbul with the five permanent members of the UN Security Council plus Germany (P5 + 1) in the latest round of talks on its contentious nuclear program. The last round, held in Moscow last month, was largely fruitless, with Iran unwilling to budge on its nuclear program until the West calls off its sanctions.  Iran has insisted that its nuclear program is strictly peaceful, but the West has continued hitting the country with more sanctions in an effort to force it to abandon the program. On Sunday, the EU imposed its sanctions, establishing a bloc-wide embargo on all Iranian crude oil imports, and preventing EU companies from providing insurance to tankers carrying Iranian oil. That move prompted the Iranian Parliament to draft a bill that would close the Strait of Hormuz for tankers heading to countries that support the sanctions.  The US also slammed Iran with new sanctions last Thursday, reinforcing restrictions on foreign companies doing business with Iran's central bank unless their nations were granted exemptions on the basis of reduced Iranian oil supply.
Iran preparing for full-out war – source
In the meantime, sources indicate that Iran is already preparing for a full-scale war with the US, Israel and its allies. A man who served in the Revolutionary Guards' intelligence but later defected to a Western country was quoted by The Daily Caller as saying that the Iranian military is preparing to shoot down Western airliners in the event of an attack. The paramilitary Basij forces would also be able to mount strong resistance to an invasion, Morteza Mirban, the deputy commander of the Revolutionary Guards' ground forces told Basij News. "Today over 3,000 boats are in the Persian Gulf and involved in commerce, constantly passing by America's naval ships," he said. "The question is how can America engage us in war not knowing how it will get hit next? If they dare to take up arms, they will see how they will regret their act."Mirban also admonished potential attackers that "all of the enemy's bases" were within the reach of Iranian missiles and that with allies such as Hezbollah, Iran was capable of striking them thousands of kilometers away.
You can share this story on social media: