Iran ready to 'train' Syrian army – commander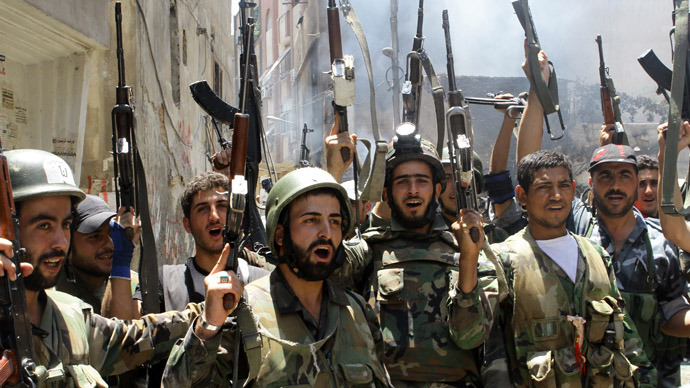 Iran has denounced a reported Israeli attack on Syria and offered to assist 'train' the Syrian army if Damascus asks for help, commander of country's ground forces stated. Iran has been urging for neighboring nations to stand against the assault.
"As a Muslim nation, we back Syria, and if there is need for training we will provide them with the training, but won't have any active involvement in the operations," IRNA news agency quoted the commander of the Islamic republic's army ground forces, General Ahmad Reza Pourdastan as saying.  
"The Syrian army has accumulated experience during years of conflict [with Israel], is able to defend itself and doesn't need foreign assistance," he added.
Israel reportedly carried out its second airstrike in three days on Syria early on Sunday, a Western intelligence source confirmed to Reuters, targeting Iranian-supplied missiles to Lebanese guerrilla group Hezbollah. The attack hit the Jamraya military research center, Syria's state TV reported; while a senior Israeli official told AFP that the Israeli airstrike was carried out near Damascus Airport.
Iran has spoken out against the alleged airstrike, arguing that it was meant to create instability and insecurity in the region and urging the countries in the region to remain united against Israel, the Fars news agency quoted Foreign Ministry spokesman Ramin Mehmanparast as saying.
Events in Syria show the intent to weaken the existing government and give more room to the terrorists, RT Arabic quoted the opening statement of the Iranian parliament's session. According to the statement, the reasons behind the Israeli attack are the success of Syrian national army is battling against the armed groups.
Iran also urged other countries in the region to stand united against Israel's' actions and demand a stop to unwarranted attacks, RT Arabic reports.
So far Israel has remained silent on the issue. Earlier Israel stated that they would not tolerate Hezbollah being supplied with arms, as Tel Aviv considers Lebanon's Hezbollah a terror organization.