Iran fights oil sanctions with supervessels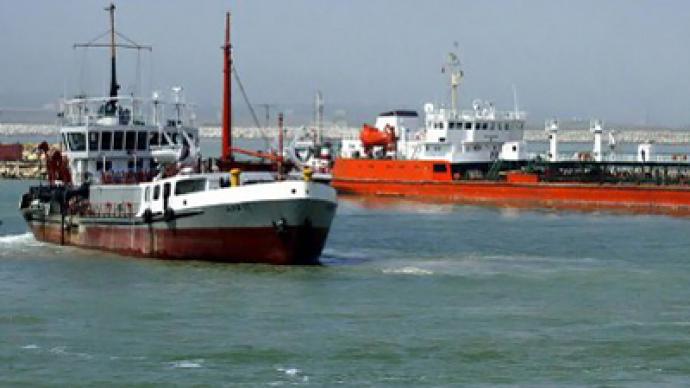 Chinese shipyards are to deliver 12 supertankers to Iran, with the final vessel ready by the end of 2013. These could help alleviate logistical difficulties caused by US and European sanctions against Iranian oil exports.
The first of the very large crude carriers (VLCCs) built for Iranian oil shipping operator NITC is expected to arrive in May, reports Reuters, citing industry executives. Seven more are to be delivered over the year, with the remaining four to be commissioned by the end of 2013. Two shipyards are building the supertankers under contracts worth $1.2 billion.The supertankers will significantly expand NITC's shipping capabilities, cushioning the impact of sanctions.Starting from July, the EU will prohibit European insurers and reinsurers from indemnifying tankers carrying Iranian crude oil anywhere in the world, which will discourage maritime firms from dealing with Iran.Buyers of Iranian oil in China, India, Japan and South Korea hope their governments will step in and provide sovereign guarantees to allow Asian insurers to replace lost European coverage. Another option would be for Iran itself to provide maritime insurance for foreign shipping companies.But the addition of 12 VLCCs capable of carrying 24 million barrels of crude to NITC's current fleet of 39 ships with a total capacity of 61.5 million barrels of crude will at least partially dampen the expected cut.The tankers however will not allow Iran to rely solely on its own fleet to cover its entire export of 2.6 million barrels per day. Roughly 17 such ships would be needed for this, Reuters estimates.The 12 supertankers were commissioned at Waigaoqiao Shipbuilding and Dalian Shipbuilding Industry, with each shipbuilder taking an order for six ships. NITC, the National Iranian Tanker Company, was privatized in 2000 and is now owned by three Iranian pension funds.The US and EU are trying to cut the Islamic Republic's oil export through a ban on the import of its crude and financial sanctions against Iran's trade partners. Their stated goal is to force Tehran to freeze its controversial nuclear program.Europe was among the largest buyers of Iranian crude, but is now trying to replace it with fuel from other sources. Japan and South Korea are also trying to reduce imports from Iran, although unlike the EU they didn't set a deadline for stopping all oil trade with Iran.China and India on the other hand refused to side with the US-sponsored effort, saying only a UN Security Council resolution would make them stop buying Iranian oil.In retaliation at the looming EU ban, Iran cut oil supply to some European countries like Britain and France. This contributed to a hike in fuel prices in the region, especially among economically weaker members of the EU like Greece and Spain, which are more dependent on Iranian oil.Tehran also offered incentives to Asian consumers to encourage them to keep their business ties intact.
By helping Iran counter the EU oil embargo, China once again proved that it is an "incredible economic power" – and that the world is no longer on a "bipolar axis," investment adviser Patrick Young told RT.China "sees no reason not to manage to take advantage [of the situation]," Young said. "Ultimately these oil tankers that are being built for the last two years, the [Chinese] are going to manage to deliver them just before the sanctions regime comes in. That is going to be a very welcome development for the Iranian regime."
You can share this story on social media: