Iran claims 'undeniable right' to enrich Uranium: New talks, same deadlock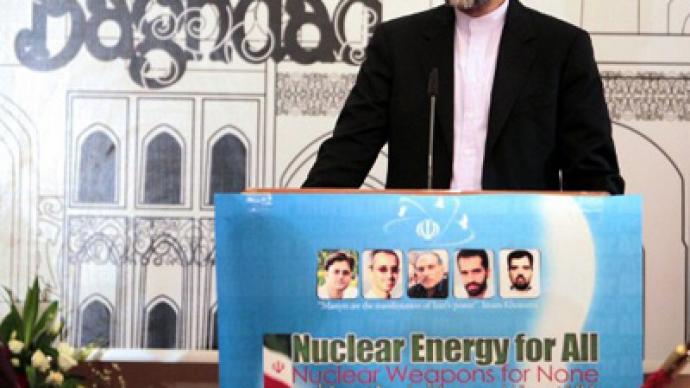 Negotiations between the P5+1 group and Iran failed to produce a result as both sides refused to budge on the nuclear issue. Tehran insists that nuclear enrichment is its "undeniable right," while Western powers snubbed Iranian demands to remove sanctions
The P5+1 group consists of the five permanent members of the UN Security Council – the United States, the United Kingdom, France, Russia and China – plus Germany. It was set up in 2006 to conduct negotiations with Iran on its nuclear program.
"Of the main topics in using peaceful nuclear energy is the topic of having the nuclear fuel cycle and enrichment. We emphasize this right," Iranian chief negotiator Saeed Jalili said during a televised news conference following the talks.

Jalili stressed that there is no reason to push on Iran, as its activity abides by the nuclear Non-Proliferation Treaty, an agreement signed in 1968 that aims to curb nuclear weapons proliferation and encourage disarmament.  

On the first days of the talks, the P5+1 appealed to Iran to suspend its 20 per cent uranium enrichment program, which the group sees as vital to the negotiations process. Some powers believe the capability to enrich uranium to 20 per cent would make it easier for Iran to construct a nuclear bomb, which requires 90 per cent nuclear enrichment. In exchange, the group promised Iran a number of benefits, including medical isotopes, nuclear safety cooperation and spare parts for civilian aircraft.

However, Tehran considered the western proposal "unbalanced" and rejected it, saying the group of six demands too much, while offering little in return. 

What Iran sought at the two-sided negotiations are guarantees from the West that it will scale back on its sanctions, which significantly affect the country's oil exports and economy. The P5+1 was unwilling to give Iran leeway on the matter, arguing that the sanctions would be kept in place because of Iran's disregard for UN Security Council resolutions demanding a halt to all nuclear enrichment. 

The fruitless talks come as somewhat of a disappointment, after IAEA Chief Yukiya Amano said he had reached a deal with Iran on probing Iranian sites suspected of harboring its nuclear program. His statement and preceding one-day trip to Iran were seen as mood-setters for the Baghdad round of talks, which failed to meet those expectations.   

With no agreement reached and "significant differences remaining," both sides saw the need to continue the discussions in Moscow. The new round of talks is slated for June 18-19.

"It is clear that we both want to make progress, and that there is some common ground,'' European Union foreign policy chief Catherine Ashton, who chaired the P5+1 group, told reporters at the end of the talks.

A senior US official predicted that the pace of the talks is likely to speed up in the coming months.

"We are urgent about it, because every day we don't figure this out is a day they keep going forward with a nuclear program," the official said, speaking on the condition of anonymity. "We still think we have some time for diplomacy, but it's not indefinite."

However, Israel was less optimistic about the talks, saying on Wednesday that the negotiations only allow Iran to buy time and drive a wedge between Washington and Tel Aviv.

On Wednesday, Israeli Defense Minister Ehud Barak said even though Iran has shown readiness to allow greater UN inspection of its nuclear facilities, he still does not rule out the possibility of an Israeli military attack on Iran.