'You're holding a gun against Iran': Tehran rejects direct talks with US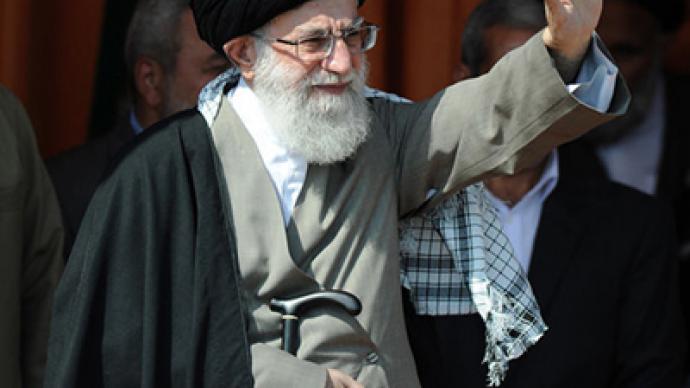 Iran's supreme leader has refused a US offer for one-to-one talks over Tehran's supposed nuclear weapons program. He dismissed talks as meaningless and accused Washington of coercing Iran at gunpoint.
Supreme leader Ayatollah Ali Khamenei disregarded the US proposal of direct negotiations, claiming that "talks will not solve any problems.""Some naive people like the idea of negotiating with America, however, negotiations will not solve the problems," Khamenei said in a speech to officials and members of Iran's aerospace force, IRIB reported.Referencing the crippling financial penalties that have been championed by the US to allay Tehran's supposed nuclear weapon ambitions, he slammed Washington for "holding a gun against Iran saying you want to talk.""The Iranian nation will not be frightened by the threats," Ayatollah stressed in a speech posted online, calling those who negotiate with Washington "naïve."The country's highest authority declared that America's strategy in the Middle East had been destroyed and that their new tactic was to drag Tehran into negotiations. The Ayatollah's words followed an offer by US Vice-President Joe Biden proposing bilateral talks between Washington and Tehran."That offer stands, but it must be real and tangible," Biden said in a speech in Munich two days ago.Relations between Tehran and Washington have worsened progressively over the past year. The US and Israel are adamant that Iran is developing nuclear weapons, while the latter's government has repeatedly denied these claims, maintaining its atomic program is civilian-oriented.In a historic visit to Cairo on Wednesday, Iranian President Mahmoud Ahmadinejad addressed nuclear claims in an effort to allay fears of a regional standoff between Tehran and Israel."[Israel] wants to attack Iran, but we're not preparing any attack against them because the purpose of our program is defense," Ahmadinejad told Al-Ahram newspaper in an interview before his trip to Egypt. Ahmadinejad said the world should cooperate with Iran in the first visit of an Iranian leader to Egypt in three decades.US-Iranian relations have been strained since the Islamic Revolution in 1979 and the subsequent hostage crisis which resulted in the holding of 52 US diplomats for 444 days.
You can share this story on social media: