Iranian FM says Tehran to resume talks after nuclear equipment upsets Israel, US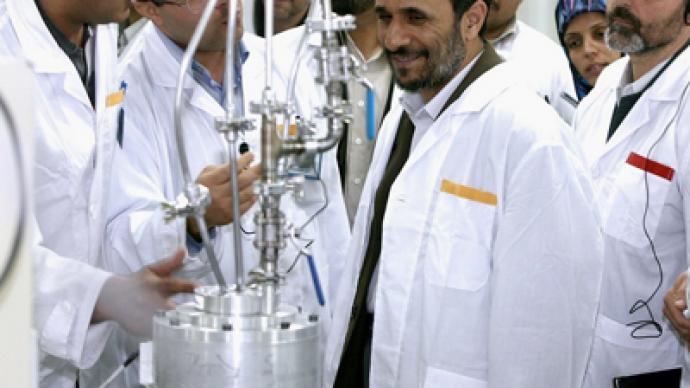 Iran has installed new centrifuges at its Natanz nuclear plant – and Israel isn't happy about it. Israeli Prime Minister Benjamin Netanyahu says the new equipment will complicate plans to prevent Tehran from developing nuclear weapons.
Netanyahu's worry comes as the leader seeks to create a new governing coalition, at the request of Israeli President Shimon Peres."The most important mission facing a [new] national unity government is stopping the nuclear arming of Iran," Netanyahu told ministers in his outgoing cabinet, in remarks communicated by his office."It is a mission which has become more complicated because Iran has equipped itself with new centrifuges which reduce the enrichment time…we cannot live with this process," he said.It was the first official reaction since it emerged that Tehran was planning to install more modern equipment at the Natanz facility. Iran made clear it has intentions to upgrade its enrichment facilities, the International Atomic Energy Agency (IAEA) revealed in a January letter.The United States said on Thursday that installation of new Iranian centrifuges would be a "provocative step.""This does not come as a surprise," White House spokesman Jay Carney said in a statement.The US and its allies have long accused Iran of seeking to develop weapons capability – a claim which Tehran has repeatedly denied.Iran refuses to slow its nuclear progress in the wake of Israeli and Western allegations."We are not supposed to regulate the country's scientific progress according to the Americans' positive or negative views…they are angered over Iran's increased technological capability, but they should be sure that Iran will not abandon its national interests," deputy chairman of the Majlis National Security and Foreign Policy Committee, MP Mansour Haqiqatpour, told ISNA.
Talks to resume
Iran has agreed to resume nuclear negotiations with major world powers in Kazakhstan in three weeks, according to Iranian foreign minister Ali Akbar Salehi. The European Union which is acting as coordinator for the six powers involved in the discussions – the US, UK, Germany, France, China, and Russia –confirmed that it proposed talks on February 25, but says it was waiting to hear back from Iranian negotiators.Nuclear talks are led by a foreign policy adviser to Iran's supreme leader, not by the foreign ministry."It is good to hear that the foreign minister finally confirmed now. We hope the negotiating team will also confirm," EU spokesman Michael Mann said in a statement.Meanwhile, US Vice President Joe Biden said the two countries could talk as long as Iran was serious about negotiations."We're not prepared to do it just for the exercise," he said.Salehi says Iran has "no red lines" when it comes to bilateral negotiations, but added that Tehran would have to be sure the US had "fair and real intentions" to improve the relationship between the two countries. The last round of nuclear talks between Iran and the six powers ended without agreement in Moscow in June.
You can share this story on social media: