"There is no anti-Semitic sentiment in Iran"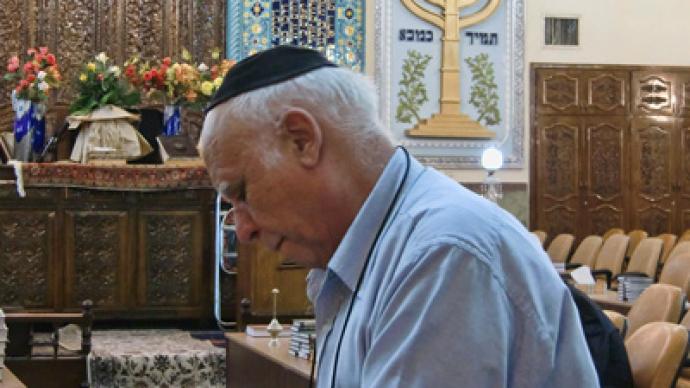 A Jewish Iranian parliamentarian believes that Jews can live in peace with Muslims.
Dr. Siamak Morsadegh, director of the Sapir Hospital, opens the conversation himself: "What is your faith? It's important!" He thinks foreigners attach little significance to this and that is why they understand Iran so poorly and do not comprehend Iranian Jews at all.The bookcase in his office has many books in Hebrew, and a picture on the wall depicts Old Testament prophets."Usually, we don't wear the kippah at work, but we put it on when we go to the synagogue." Morsadegh won't put the kippah on just to please a foreigner, even though it is openly lying on the shelf.For the story in pictures, visit the RT gallery "We live in peace with Muslims – Jews in Iran" Like most Iranians, Professor Morsadegh thinks that foreigners go to Iran with preconceptions about the country which have little to do with reality."We are part of the Iranian culture. First and foremost we are Iranians. We have been living here for 3000 years. It is a long story. We took part in the war [between Iraq and Iran in 1980-1988] along with Muslims. The fact that we are Jews doesn't change anything. I volunteered and spent 12 months at the frontline," the professor says, lighting a cigarette."Now, you have no business taking a picture of a doctor with a cigarette!" the doctor exclaims jokingly but refuses to part with the cigarette."Jews built this hospital 60 years ago specifically for people from poor neighborhoods. Ninety per cent of our staff are Muslim. The Jewish community pays for half of the budget, and the state pays the other half. Our hospital is a practical example of tolerance in Iranian society."An old lady wearing a kerchief comes in."This is Farangis Hassidim, head of a Jewish women's organization. She has been working at the hospital at least for as long as I can remember. What is it, 40 years? Oh, it's not appropriate to ask such questions!" The two doctors exchange a few more remarks, joking about the ever-popular subject of a woman's age."Jews are safe in Iran. That's true. Nobody needs guards. There has never been a single instance of anti-Semitism in Iranian society. This phenomenon belongs to the European, Christian world. There is no anti-Semitic sentiment in Iran. We have no attacks on synagogues or cemeteries as happens in Paris. Just so you know, there are 15 synagogues in Tehran," the head of the hospital says. To him, it's a major indicator of freedom of religion. I keep to myself the fact that Moscow, which has ten times more Jews than Tehran, has only four synagogues.Morsadegh is a parliament member representing the Jewish community. In Iran, there is one MP for every 250,000 citizens. The Jewish community has only 28,000 people but it is guaranteed one seat in the parliament (Christians and Zoroastrians have their MPs, too). In the meantime, the previous Jewish MP, Maurice Motamed, enters the room."The conflict between Ahmadinejad and Israel is not important. What matters is that Iran has freedom for Jews, Christians and Zoroastrians," Morsadegh says. "Please, don't put Iran and North Korea on the same plane. These are different countries, with different behavior and different cultures.""I am a Jew, so I can shake your hand." Dr. Morsadegh stretches out his hand. Muslims don't shake hands with women in Iran, but it's alright for a Jew to shake the hand of a foreign lady. The doctor's handshake is firm, as is often the case with doctors.Jews and Muslims have 99 per cent in common.
A big synagogue is located in an upscale neighborhood in northern Tehran. After four pm on Friday, the Jews open the gates."Why am I not leaving? I have a grandson living in the United States. I can go to him. He comes to visit me. He likes it here, although it's not easy for him to get accustomed since he was born in America. Many Jews in Iran like Iran the same way I do. I have many Muslim friends here, and I can't detach myself from them," the elder of the community invites me to sit down near the wall of the synagogue, in front of the wedding chairs. Now and then, Jews come up to the wall to pray.Rahmatullah Shamsiyan, the keeper of the synagogue, was born in Isfahan. He left his hometown when he was just a teenager. He has lived in Tehran for 55 years, selling clothes.Sixty thousand Jews lived in Iran before 1979. After the revolution half of them left. As one synagogue visitor observed ironically, 90 per cent of the Russian Jews fled from the capitalist revolution in Russia in 1991 and only 50 per cent of the Iranian Jews fled from the Islamic revolution in Iran.According to Shamsiyan, 300-400 people go to the synagogue on Saturday. They all know each other since they all live nearby. If a person dies in one family, everybody goes to express their condolences. Young parents take their newborn children to show them to everybody. It is rare that you see a man wearing a tie in Iran. At the synagogue, I saw two."I don't know how to explain this so you would understand. My ancestors have lived in Iran for 2600 years. I like the weather and the people here, but that's not all. We consider Iran our homeland. We live at peace with Muslims. There are ten "martyrs" in our community — ten volunteers who were killed in the Iraq war. They are our "martyrs," they are buried at our cemetery. We have 99 per cent in common with Muslims. We have our own mullahs here who cut meat according to our rituals. We have our own grocery stores [where food is prepared according to religious regulations]."Shamsiyan uses the Persian term "mullah" instead of "rabbi," "halal" instead of "kosher," and "namaz" instead of "prayer.""We do namaz from five to seven. Like Muslims, we do it at sunset. We double our prayers like Shia Muslims. On Saturdays, we add the morning prayer. We have our own school for mullahs in Tehran, just like Muslims have in Qom. There is a 12-grade school at the synagogue. Also, we have special classes on Fridays where kids study Hebrew. We know about each other's religions. This is Iran. I myself have read the Koran in Persian."I ask him if Muslims and Jews visit the Tomb of Daniel in Susa. Rahmatullah does not answer directly, which is not unusual for Oriental people."Imam Ali [son-in-law of the Prophet Muhammad] said, 'He who honors me should also honor Prophet Daniel,'" says the elder. I have never heard a Jew quote an Islamic Imam before. Iranian Jews don't see anything strange about that."We always drink wine on the Sabbath, on holidays and at weddings. We are allowed to drink wine. We make it ourselves".Synagogues in Iran do not pay taxes and have a 50 per cent discount when paying for electricity and water. City authorities help Jewish communities maintain synagogue compounds.No matter how hard I try, I can't get him to talk about problems Jews face in Iran. "We don't have problems. You don't believe me, do you? Then what's the point of talking about that? As for all those rumors about war, it's all propaganda. They won't dare attack Iran," Shamsiyan says.We are served sweets, which in Persian are called "pirozhki," just like in Russian.If you don't believe in Moses and Jesus, you are not MuslimIslamic theologian Mohsen Rabbani, director of "Fundacion Cultural Oriente", describes religious similarities between Jews and Muslims."We believe that Moses and Jesus are great prophets. If you don't believe that, you are not Muslim. We believe in Abrahamic religions. We view them as brothers. We as Muslims believe in Prophet Moses. The Islamic Republic of Iran is the only country where religious minorities have the same freedoms, occupy high positions, are free to operate on the market, in the economy, and have their representatives in the parliament. We consider ourselves first Jews, then Christians, and only after that, Muslims."We see the proof of these words literally outside the building, on the street. On a regular weekday, at 8 pm there is a line in front of a movie theatre. There are many screens showing different movies, but everybody wants to see the one about Solomon. It premiered two weeks ago. The room is full. The movie is based on the Koran account about King Solomon, whom Muslims honor as Prophet Suleiman. The story in the Koran is different from the biblical account. Israel's trials are shown as a tragic and mystical story of a God-fearing community – and Muslim viewers genuinely sympathize with the suffering Jewish people."Films about prophets are very popular here. Some are made into TV series — for example, the story of Jesus. There are also films about Joseph and Mary," an Iranian journalist explains. "You should remember that everybody here has a satellite dish, they can watch whatever they want— Hollywood movies, European ones or Iranian ones."
Nadezhda Kevorkova, RT
You can share this story on social media: