Pre-emptive embargo: Iran could turn off oil tap to EU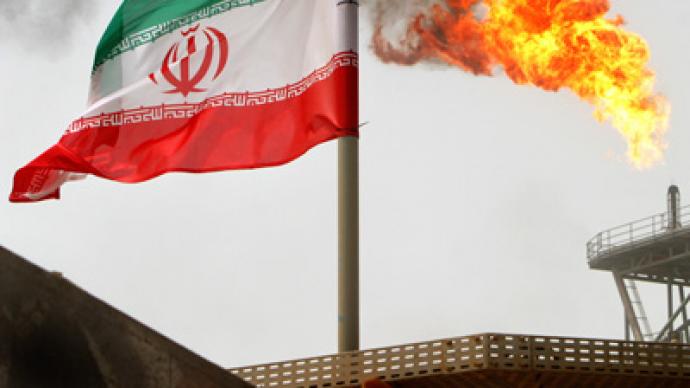 Iran may turn the sanctions tables by immediately stopping oil supply to Europe. The move is aimed as a response to the EU slapping an embargo on new oil contracts with Tehran. China has lashed out at the sanctions, calling them "blind pressure".
The European sanctions, which follow a similar move by the US, provide for a grace period lasting until July 1, during which standing contracts with the Islamic Republic may be honored. However Iranian MPs are drafting a new law, which would stop short all supply to Europeans as soon as possible, according to Nasser Soudani, a member of the parliament's energy committee."A number of representatives of the Majlis [Iranian parliament – RT] and I are seeking to approve a plan according to which all European countries that made Iran the target of their sanctions will not be able to buy even one drop of oil from Iran, and oil taps will be turned off to them so that they will not play with fire again," Soudani told the Fars News Agency on Wednesday.The legislation may be voted on in the parliament as early as this Sunday. If imposed, such a ban would result in a fuel shortage in Europe, as the countries, which joined the sanctions while receiving a considerable amount of crude from Iran, would not have enough time to secure a substitute.Countries like Italy and Greece refine oil from Iran at plants tailored to a particular blend of crude, and readjusting them to another sort of oil would be costly both in terms of time and money. Soudani says the sanctions may eventually force buyers to acquire Iranian oil through intermediaries, and the cost of the fuel would be inflated by both rising market prices, and middlemen's fees."European firms have no alternative but to enter into contracts with us, since abandoning Iran's oil would mean the extinguishing of the candles of their economic lives," the Iranian MP predicted.
'Blind pressure' criticized
Meanwhile, China has lashed out at the new round of sanctions imposed by the EU, reports Xingua news agency, citing a statement of the Chinese Foreign Ministry: "to blindly pressure and impose sanctions on Iran are not constructive approaches."The ministry said China will continue advocating settlement of international dispute through political dialogue rather than sanctions.Earlier, Beijing refused to join Washington's embargo on Iranian oil, saying it would recognize only sanctions issued by the UN Security Council. A similar statement came from Ankara, which said Turkey's trade relations with Iran will develop in the framework of international law."We have very good relations with Iran, and we are putting much effort into renewing Iran's talks with the 5+1 [UN Security Council permanent members plus Germany – RT] mediators' group. Turkey will continue looking for a peaceful solution to the issue," Turkey's Foreign Minister Ahmet Davutoglu told Interfax news agency.China is the top buyer of Iranian oil, accounting for 22 percent of its total export. The Asian country needs much energy to fuel its developing economy. Another country with similar relations with Iran is India, which also refused to issue sanctions. Japan and South Korea, which are also on the list of Iran's major oil importers, seem to be leaning towards siding with the US and EU on the issue.Turkey is tied with Iran by numerous trade links by virtue of neighborhood. The two countries however are also in a struggle for regional dominance in the Middle East.The US and EU have approved an embargo on Iranian oil and sanctions against its central bank in a bid to cripple the country's income. It is meant to put leverage on Tehran and make it more concessive over its controversial nuclear program.
Shirin Shafaie, from the Campaign Against Sanctions and Military Intervention in Iran, when questioned by RT on the subject of negotiations with the West over the country's alleged nuclear program said:"The nuclear issue is really an excuse for the deepening of confrontation between Iran and the West."She explained the hitherto unsuccessful negotiations as evidence that the "Iranophobia" that the West is promoting in the region is effective."At the same time that the EU imposes this embargo we see that some European countries are selling more arms to the Arab countries of the Persian Gulf."
You can share this story on social media: