Amnesty Intl urges Iran to halt second hanging of execution survivor
Published time: 18 Oct, 2013 03:10
Edited time: 18 Oct, 2013 03:43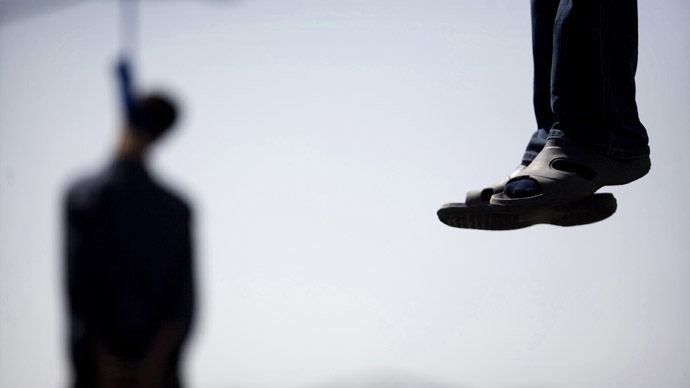 Amnesty International has condemned the "horrific prospect" of a second hanging of a drug smuggler in Iran. The man survived a botched hanging execution last week, and is set to face the same ordeal after authorities nurse him back to health.
The human rights organization has urged Iran to call off the execution. 
"The horrific prospect of this man facing a second hanging, after having gone through the whole ordeal already once, merely underlines the cruelty and inhumanity of the death penalty," director of Amnesty International's Middle East and North Africa Program, Philip Luther, said in the statement.
The 37-year-old-man, Alireza M., was found alive by his family in the morgue one day after the execution took place. He had originally been declared dead by a doctor at a jail in the northeastern city of Bojnord after being hanged for 12 minutes. 
"We found him alive again, which made his two daughters very happy," Iranian state media quoted an unnamed family member as saying.
Authorities are nursing the survivor back to heath in order to carry out the execution one more time. 
Iranian officials said the verdict would be carried out once Alireza M. recovers. 
According to Amnesty International, Iran is second only to China in the number of people it puts to death for crimes. This year alone, 508 people have already been executed. Drug offenses are the most common crimes to receive death sentences.