Iran & Belarus discuss economic ties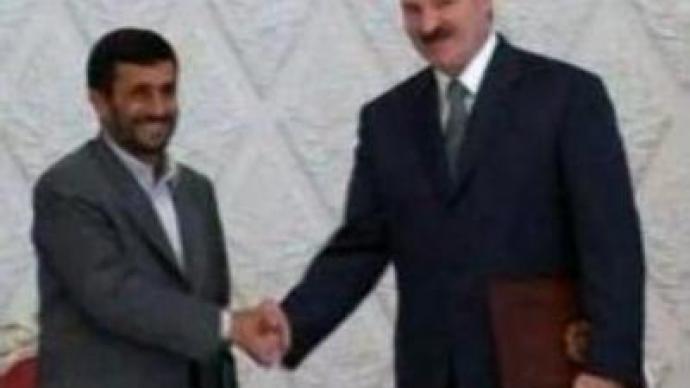 Iranian President Mahmoud Ahmadinejad and his Belarusian counterpart have agreed to enhance political, trade and economic ties. The two countries are developing strategic co-operation, including interaction in oil and gas sectors.
Iranian President Mahmoud Ahmadinejad is on a two-day official visit to Belarus. The visit was announced with very short notice and the agenda was not revealed prior to the talks. But discussions on co-operation were clearly indicated.
"I have mentioned it many times including during my last visit to Iran that many approaches of Iran's leadership to the solution of international problems are coincident with our vision of the problems. I am sure that Iran with its rich culture and history and also a powerful economic potential will be able to become an influential member of the world community,"
said Aleksandr Lukashenko.Meanwhile, his Iranian counterpart stressed:
"We are against a unipolar world and exertion of pressure by some states on other countries."
The Iranian President arrived in the Belarusian capital, Minsk, following the Belarusian delegation's visit to Tehran in November 2006. Strengthening of bilateral relations, especially in the spheres of energy, trade and science topped the agenda in Tehran and once again in Minsk.President Aleksandr Lukashenko expressed his country's willingness to explore oil fields in Iran, a move, interpreted by many as an attempt to become less dependent on Russian energy supplies. The Belarusian economy is facing a serious challenge, especially after its energy row with Moscow. But many international and local analysts say that exploration projects abroad will be tough for Belarus to fund and even more, it would not reduce the country's dependency on Russian oil and gas.
"The impression is that all these recent contacts between Venezuela, Azerbaijan, Iran are just a public relations exercise. Yes, they can buy oil from other countries, bypassing Russia, but they will pay more money for that oil,"
said Aleksandr Kvaskovsky, a political analyst from Minsk.
You can share this story on social media: