Internet inventor slams UK, US for 'appalling and foolish' surveillance and censorship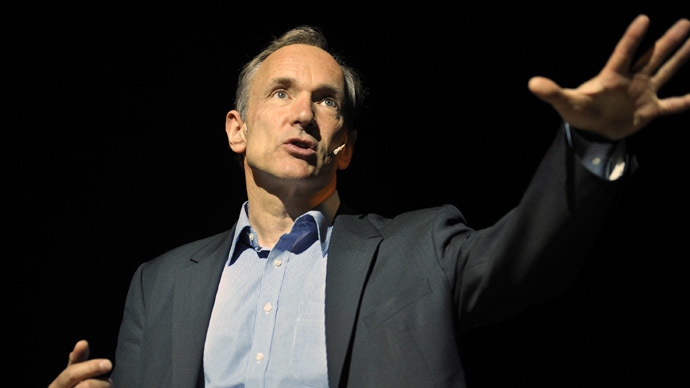 The inventor of the World Wide Web, Sir Tim Berners-Lee, has said the US and UK must do more to protect internet users' privacy as the US has fallen to fourth place in a survey ranking countries in terms of their internet freedom.
Despite more and more people around the world having access to the internet, Berners-Lee warned that the growing tide of government-on-government surveillance and censorship is posing a threat to online freedom and the future of democracy. He made his remarks at an event to launch a global index that ranks countries according to their internet freedom in London Friday.
"One of the most encouraging findings of this year's Web Index is how the web and social media are increasingly spurring people to organize, take action and try to expose wrongdoing in every region of the world. But some governments are threatened by this, and a growing tide of surveillance and censorship now threatens the future of democracy. Bold steps are now needed to protect our fundamental rights to privacy and freedom of opinion," said computer scientist Berners-Lee, 58.
Berners-Lee, known popularly as TimBL and Mr Internet, is also director of the World Wide Web Consortium (W3C), which oversees the web's continued development.
He also described attempts by spy agencies to crack encryption as "appalling and foolish."  He has said previously that the checks and balances that the UK and US governments are meant to have over GCHQ and the NSA have failed. 
The league table is compiled of 81 countries, expended from 61 countries surveyed last year. It looks at various measures, including the extent of internet access, how "empowered" people are by its availability and how much censorship is employed by governments.
A total of 76 of the 81 countries surveyed were found not to meet best practice for the checks and balances on government surveillance of electronic communications. One-third of the countries block politically sensitive content.
The US dropped from second to fourth place on the list, while the UK hung onto its position of third place. Sweden was still in No. 1, with Norway coming in second. Russia and China scored poorly, coming in at 41 and 57, respectively.
While the US was the highest scorer on social, economic, political and environmental empowerment it didn't score well on breadth of internet access, communications infrastructure and a lack of safeguards to protect users' privacy.
Even Sweden's record in web innovation could be at risk because of excessive state surveillance. 
Amongst the emerging nations Mexico did the best, while the Philippines achieved the highest overall ranking from the developing nations.
The index found that a country's wealth does not necessarily equal free and open access to the internet. Qatar, the world's richest country, came in below Jamaica at 51, while Switzerland, the third-richest country in the world, was below Estonia.
Unsurprisingly, the survey found that wealthier groups were likely to use the web and social media to increase their knowledge and amplify their voice in public debate. But low-paid workers, subsistence and small holder famers and women in the developing world were less likely to be able to access important information online.
No developing country has yet achieved the UN target of connecting at least 50 percent of their population to the internet. In Africa less than one in five people had internet access. 
Anne Jellema, the chief of the World Wide Web foundation, was scathing of attempts by world leaders to meet the UN target and get people connected to the internet.
"Ten years after world leaders committed to harnessing technology to build an inclusive information society, parents in over 48 percent of countries can't use the web to compare school performance and budgets, women in over 60 percent of countries can't use the web to help them make informed choices about their bodies and over half the population in developing countries can't use the web at all," she told The Guardian.
You can share this story on social media: