International Court accuses two Sudanese officials of Darfur atrocities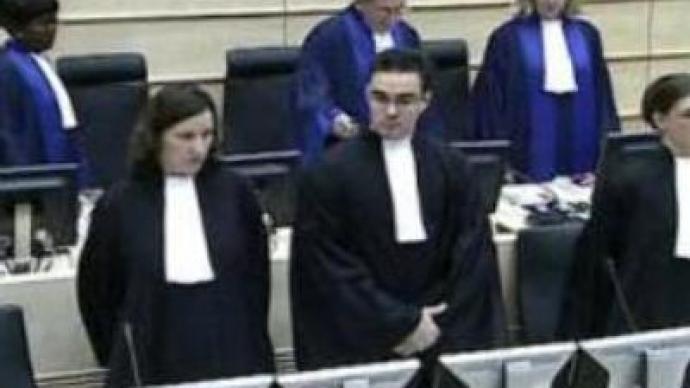 A former Sudanese government minister and a leader of the Janjaweed militia have been accused by the International Criminal Court in the Hague of atrocities in Darfur.
Prosecutors at say a former junior minister helped recruit murderers and rapists for the feared Janjaweed.But Sudan says the court has no power to try them. The prosecution's case falls short of a formal indictment against the two men, and the Sudanese government has rejected the allegations. The prosecution claims "reasonable grounds to believe" that Ahmed Muhammed Harun and Ali Mohammed Ali Abd-al-Rahmanit "bear criminal responsibility" for 51 offences including murder, rape, torture and persecution.
"The attackers did not target any rebel presence. Rather they targeted civilian residents based on the rationale that they were supporters of the rebel forces. This strategy became the justification for the mass murder, summary execution and mass rape of civilians who were known not to be participants in any armed conflict,"
says Luis Moreno-Ocampo, Chif Prosecutor at International Criminal Court.Luis Moreno-Ocampo asked pre-trial judges to issue summonses for the two suspects.Harun is Sudan's former interior Minister, appointed in 2003 as the head of security in Darfur, and a member of President Omar al-Bashir's inner circle. Abd-al-Rahmanit, a "colonel of colonels" in West Darfur, was commanding thousands of Janjaweed by mid-2003.The crimes were allegedly committed during attacks on the villages and towns in West Darfur.The Sudanese government has repeatedly rejected the International Court's investigation saying it will not respect indictments from the ICC.
"We believe that the International Criminal Court has no jurisdiction to try any Sudanese. We maintain our position that the crimes committed in Darfur fall under the jurisdiction of the Sudanese judiciary, which carries out investigations and weighs the evidence and presents it to the independent and impartial court that issues verdicts on them,"
says Mohamed Ali-Mardi, Sudanese Minister of JusticeIf the two men are convicted at the Hague they face a maximum sentence of life imprisonment at the court, which does not have the death penalty.
The ICC launched its investigation into atrocities in the war torn region in 2005 following widespread concern from the international community.More than 200,000 people have been killed and 2.5 million displaced in a campaign the White House has labelled genocide. Fighting erupted in February 2003 when ethnic African tribesmen took up arms, complaining of decades of neglect and discrimination by the Arab-dominated government.
You can share this story on social media: