Informal press conference spiced with would-be scandal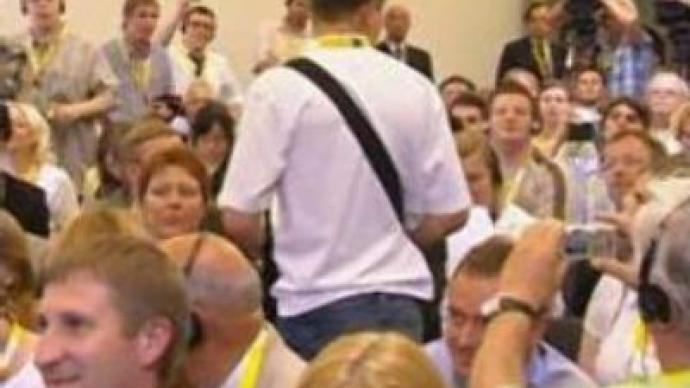 Russian President gave a wrap-up press conference at the end of the G8 summit. He re-affirmed his proposition on radar station in Azerbaijan, commented on Kosovo issue, and deflected unexpected accusations of tyranny.
Vladimir Putin without a jacket – fighting the heat, or keeping it informal – summed up the hard work done and over with. Straight away the talk turned to his proposal to George W. Bush of an alternative site for a U.S. anti-missile shield elements. The idea's still up in the air, and the Russian President hinted he wouldn't want to be outmanoeuvred until more talks take place.
"We suggest that those European countries involved discuss the issue and estimate the missile threat up to the year 2020. We should agree on joint actions to prevent this threat. And all the participants will have equal access to manage the system we'll create. What is the most important – and I already voiced it yesterday to the press and to President Bush – we hope there will be no unilateral decision before these consultations are over,"
Mr Putin stated.Once again, he had to defend his stance on the future of Kosovo.
"If we decide that in the current international environment the principal of a nation on self-determination is more important than that of a country's integrity, then we'll have to follow this principle in all parts of the world. And in this case not only the countries of former Yugoslavia, but also the peoples of the former Soviet Union will have this right of self-determination. Because we don't see any differences between them,"
the Russian leader said.But just as the conference was coming to an end, there came a surprise. A young protester got up, shouting and throwing leaflets. The 20-year-old travelled from Moscow. He said he got a press pass with the help of a German-Russian newspaper, his protest – the only way to attract attention. The leaflets, in Russian, English and German accused President Putin of tyranny and Russia of democratic shortcomings.The President studied a copy and wasn't lost for words.
"At the end of 2007 we'll have elections to the State Duma, and at the beginning of next year we'll have presidential elections. I assure you that everything will be done democratically. We won't let anyone violate the constitution of the Russian Federation. I don't violate it myself. And those people will win to whom the majority of votes will be given during the secret ballot. And you will be dealing with Russia supported by the Russian people,"
President Putin affirmed.Next summer a different leader will be representing Russia at the G8. A message the leaders took home this time – Vladimir Putin made it clear he didn't want any bilateral name-calling and was open for talks while sticking to his principles.
You can share this story on social media: