Infant gagged in Uralian infection clinic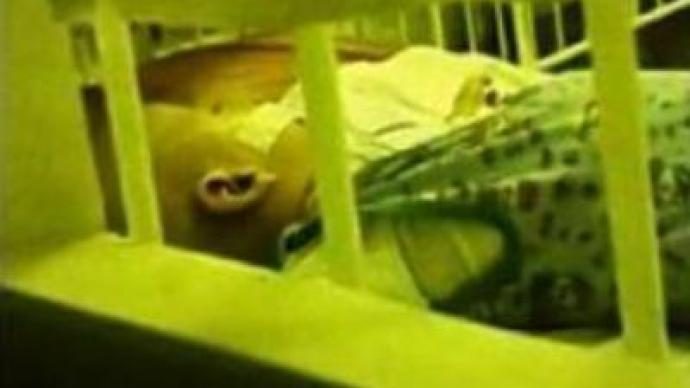 A nurse at a clinic in the city of Ekaterinburg in the Russian Urals is reported to have taped a baby's mouth shut to stop him from crying. The local prosecutor's office is now investigating claims of child neglect.
Footage shot by a mobile phone camera in the Ekaterinburg infection clinic shows a 4-month-old boy with mouth taped shut with medical plaster. The person who shot the video, Elena Kuritsina, says she and her newborn were receiving treatment when she noticed how staff were treating babies in the adjacent children's ward.
"I heard the baby's muffled calls from the ward next to ours. I peeked in and saw the child had plaster covering his mouth. He just couldn't scream. I asked the nurse what she was thinking by allowing this. And she said it was none of my business,"
the eyewitness says.Ludmila Krylosova, the nurse accused of gagging the boy says the tape was meant to keep a dummy in the baby's mouth while she was busy with other work.
"We used an old plaster that's not so adhesive – it doesn't glue the mouth it just supports the dummy, so it won't fall out,"
she said.The boy in question has no one to speak for him, as his parents have given him up. He and the rest of the orphans are left in the clinic's childcare centre, awaiting adoption or a transfer to other orphanages.The clinic's administration says their staff is overloaded with work.
"All of these wards – nearly 25 beds – are looked after by just one nurse instead of the minimum two. Plus we don't have any more senior staff,"
explains Elena Konstantinovich, deputy chief physician.The photos of the baby with his mouth taped shut and witness complaints have now been passed on to the local prosecutor's office. It's up to them to decide whether the case constitutes child neglect or is simply just a violation of the clinic's code of ethics.
You can share this story on social media: