Series of quakes hits Indonesia exposing disaster management flaws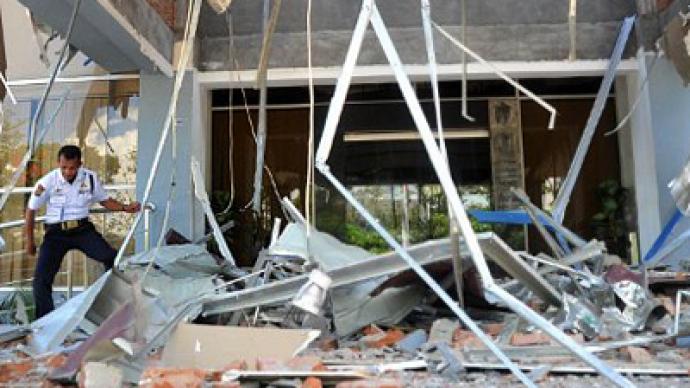 A series of tremors rocked parts of Indonesia for several hours overnight, causing panic. Feeble evacuation attempts showed tens of thousands remain at constant risk in the country with no operational tsunami warning system and very few shelters.
Four consecutive quakes in four hours ranging from 5.2 to 5.7 in magnitude hit off the western coast of northern Sumatra, the US Geological Survey reported. The strongest, 6.6-magnitude tremor rocked Papua region on the western tip of the island of New Guinea at 01:16 GMT on Saturday. It was followed ten minutes later by a 5.6-magnitude quake in the same location.Panicked residents escaped shaking houses and stores, in the town of Manokwan in Papua, closest to the epicenter.In the town of Ransiki in the west of the region, students attending morning classes ran from school buildings that shook for around a minute.There have been no reports of damage or casualties, and no tsunami warning has been issued so far. But as the country is constantly being affected by tremors and the tsunamis they can cause, people in the region are anxious. Indonesia is situated in the world's most seismically active area. It is located on the Pacific "Ring of Fire", an arc of volcanos and fault lines encircling the Pacific Basin.But many say their government can neither warn them of a quake approaching in advance, nor organize evacuation. In a country where 6,000-7,000 earthquakes with a magnitude of 4.0 or above are registered annually, authorities seem not to pay much attention to the issue.Following last week's 8.6-magnitude earthquake, the country's disaster-management chief admitted that evacuation efforts were "a big mess." The tremor was extremely powerful and didn't trigger a tsunami only because it was a strike-slip quake. Such earthquakes do not make the seafloor move up or down, they slide against each other, making the water vibrate. In the opposite case, when the sea floor moves vertically, it displaces millions of tons of water, causing devastating tsunamis.Despite the fact that eight years have passed since 230,000 people were killed by a giant tsunami across South East Asia, three quarters of them in Indonesia, little has been done by the country's preparatory authorities. The quake on April 11 took place at the very Aceh province, where 170, 000 died in 2004, and it showed the region remains unprepared for the next Big One.Only now are authorities proposing to build vertical safety shelters in tsunami-prone areas. Most of the cities do not have even a dozen of them. Padang in West Sumatra has only seven such structures, though it requires between 300 and 500 units to accommodate the city's population. In West Sumatra's South Pesisir district there are only three such structures, with 68 units needed. Following the 2004 disaster, countries along the Indian Ocean have spent millions of dollars on safety measures. Buoys capable of detecting waves generated by seismic activity were installed, and a vast communications network is being built up.But it is only recently that Indonesian President Susilo Bambang Yudhoyono, who took office in 2004, has ordered the two agencies to "comprehensively study what equipment is needed for the tsunami early warning system." The president cited tools such as alarm sirens, tsunami buoys, tide recorders, and global positioning systems, promising they will be purchased next year. Earlier Indonesian authorities claimed the existing tsunami early warning system has been compromised by thieves and vandals in the country's waters. Officials also say they are now working with the United States to try to develop deeper-water equipment to prevent theft and vandalism. Everyone in this region knows what the next Big One may bring. Tens of thousands of people remain at risk every moment as master plans on disaster mitigation are being ordered by the government.
You can share this story on social media: