'Vote for us or be electro-shocked!' Indian politician accused of scaring people over voting machines
Published time: 16 Nov, 2013 18:17
Edited time: 16 Nov, 2013 18:32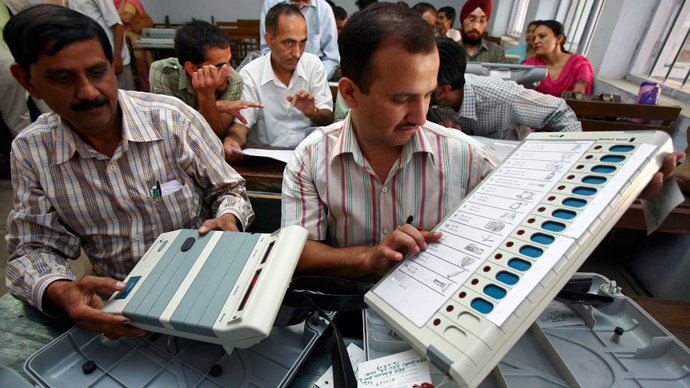 A politician in India's largest party has been accused by rivals of scaring people into voting for his Congress Party candidates, by telling them that electronic voting machines (EVMs) will give them electric shocks if they press other buttons.
The Bharatiya Janata Party (BJP), India's second largest party, has filed a complaint against senior Congress Party leader and former chief minister Ajit Jogi for the alleged misleading of tribal voters.
Jogi's reported comments about the electric shocks were in relation to the upcoming vote for the Kunkuri Assembly, which enters its second and final phase on November 19.
"BJP in its complaint stated that while addressing people, Jogi asked them to press the button bearing 'Punja Chhap' - the Congress symbol of hand - on EVMs. He told them that they will receive an electric shock if they press buttons next to other symbols on EVMs except that of Congress," said Collector and District Election Officer LS Ken, as quoted by PTI news agency.
Jogi was addressing a public meeting in the Kunkuri constituency in the Jashpur district on November 11 when he made the comments, election officials said.
After verifying the videography of the program, a notice was sent to Jogi, Ken said. He added that voters are now nervous about using EVMs.
Ken said that any future course of action would depend on Jogi's response.