India boosts arsenal with nuclear-capable missile test (VIDEO)
India has conducted a second test firing of a nuclear-capable missile with a range of 5,000 kilometers. New Delhi is struggling to challenge Beijing in the race for missile dominance in Asia.
"The country has established ICBM capability with the successful second test," said Avinash Chander, a scientific advisor to Defense Minister AV Antony, adding that the next launch would be canister-based.

'Agni-V' long-range ballistic missiles are about 17 meters long, with a diameter of 2 meters and a launch weight of about 50 tons, The Indian Express reported. It can carry a nuclear warhead of over 1 ton.

The missile was test-fired from Wheeler Island, off the coast of Odisha. Missile scientist and 'Agni 5' chief designer V.G. Sekaran said the test was an "overwhelming success and showed the reliability and maturity of the sub-systems," the Hindu newspaper reported.

Only Russia, the US, China, France and Britain, reportedly along with Israel, which has never officially admitted to having an nuclear arsenal of its own, are believed to have such long-range weapons.
The three-stage solid propellant missile was first successfully tested in April last year. Agni-V boasts a state-of-the-art Micro Navigation System, enabling the missile to hit the target to within a few meters.

According to the spokesman for India's Defence Research and Development Organization, Ravi Gupta, the missile will be included in the Indian Army's arsenal by 2014-15. "It hit the target in a predefined trajectory. It met all the mission objectives," he said.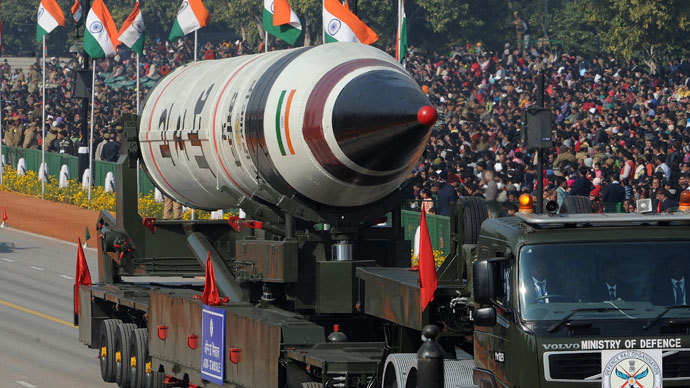 China has the world's second-largest military budget behind the US, and is far ahead of India in nuclear weaponry, with intercontinental ballistic missiles capable of reaching anywhere in India.

The Agni-V may be India'a answer to China's nuclear buildup. Earlier versions of its missiles could reach only old Pakistan and western China.

Last year, China expanded its nuclear weapons arsenal, allegedly adding an estimated 10 warheads to its inventory. According to the Stockholm International Peace Research Institute, China currently has some 250 nuclear missiles, while Pakistan holds between 100 and 120 missiles and India has between 90 and 110.

"We have always kept our nuclear capability at the lowest level commensurate with the need for national security," Hong Lei, a spokesman for China's Foreign Ministry, said at a briefing in Beijing in June. "China hopes the outside world does not make groundless speculation about China's limited nuclear capability."

China, India and Pakistan appear to be the only countries currently expanding their nuclear arsenals.

The total number of nuclear missiles globally is estimated to have fallen from about 19,000 at the end of 2011 to about 17,265 warheads at the end of last year, thanks to the US and Russia reducing their stockpiles under bilateral arms control agreements, the Stockholm International Peace Research Institute said. Russia is believed to possess the largest inventory, with 8,500 warheads, just a little ahead of the 7,700 held by the US.