India shocked as 'moral police' beat girls out of pub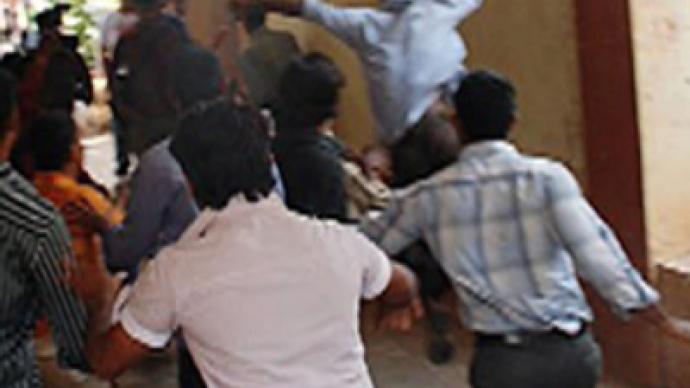 A protest has taken place in the Indian capital Delhi over the release of a group of men who beat up young women in a pub. The case of so-called moral policing has shocked the country.
Forty activists from the right-wing Sri Ram Sena barged into a bar in the city of Mangalore and attacked the women.
Video of the incident shows how the women were pulled by their hair and thrown out of the pub by almost 30 men.
Eight girls were injured with two needing treatment in hospital.
The incident has caused a furore, drawing criticism from all quarters.
Some 28 men were arrested but later released on bail.
The activists said the women were violating traditional Indian values by drinking alcohol in public and warned that the women would face dire consequences if seen in pubs again.
The incident took place on January 24, just two days before India celebrated Republic Day.
Video of the attack has become one of the most watched clips on YouTube.
One victim told local media that she has received threatening calls.
TV Footage
A local television channel filmed the incident, which has been broadcast around the country.
Riya Basu, a Bangalore resident, says: "I was absolutely shocked and flabbergasted when I saw the visuals on Times. I have few words that can describe the utter shame I feel to have been born in a country where such medieval acts of idiosyncratic attention seeking madness still prevail."
"I hope these Ram Sena or whatever they wish to call themselves are taken to task in a manner that others think twice before conducting anything even remote to such acts."
"Good Job"
Pramod Muthalik helped found the right-wing Hindu group called the Sri Ram Sena.
He said: "Whoever has done this has done a good job. Girls going to pubs is not acceptable. So, whatever the Sena members did was right. You are highlighting this small incident to malign the BJP government in the state."
Four years ago Muthalik was the Karnataka coordinator of the Bajrang Dal group. After being expelled, he joined the Shiv Sena and later formed his own group.
However Muthalik later apologised for the attack saying the way the right-wing group acted "was wrong" but added it was done to "save our mothers and daughters".
He was later arrested under IPC section 153 by the Karnataka Police.
In August, 2008, Sri Ram Sena vandalised an art exhibition in Delhi.
The Sena activists also accused the women of "involving themselves in immoral activities, including consuming alcohol, dressing indecently, and mixing with youths of other faith"'.
What is Sri Ram Sena
Sri Ram Sena is a pro-Hindu apolitical organisation based in Hubli and promoted by Muthalik, who created the organisation after leaving the BJP a few years ago. The Sri Ram Sena has between 1,000 and 1,500 members in the coastal Karnataka region.
The organisation is known for celebrating all Hindu festivals on a grand scale but is infamous for creating communal tensions and moral policing. It claims to be a "protector" of swadeshi (Indian) ideology and Hindutva (promoting Hinduism).
"Talibanisation of India"
Women and child development minister Renuka Chowdhury likened the incident to Talibanisation.
"This is Talibanisation of India; it will not be tolerated. I will approach the EC to disenfranchise the organisation involved in this and those associated with it. It is unfortunate that this incident comes two days before the girl child day. These people are not ready for the Republic of India."
We were called prostitutes, says a pub victim
A Mangalore pub victim, on condition of anonymity, appeared on a TV channel two days after the attack.
She said that the Sri Ram Sena activists hurled abuse at them and called them "prostitutes".
"The whole thing was traumatising," the unidentified victim said. She also added that none of the bystanders came forward to help when the attackers pushed them by their hair and assaulted them.
"We were just having a good time and next you know people pulling your hair, hitting you and calling you names like prostitutes, whores. The last thing we want is to be spoken to like this and especially by hooligans who don't know what they are doing in the name of god," she said.
Activists in capital protest
Many women activists and students protested in front of the Karnataka Bhavan in New Delhi, demanding the immediate re-arrest of the 28 who were released on bail.
Activists from various NGO's held banners with slogans like "Stop Talibanisation of India" and "India has no room for fascist forces."

Nidhi Sharma for RT
You can share this story on social media: