Indian Olympians see red: Gate-crashing girl steals spotlight from athletes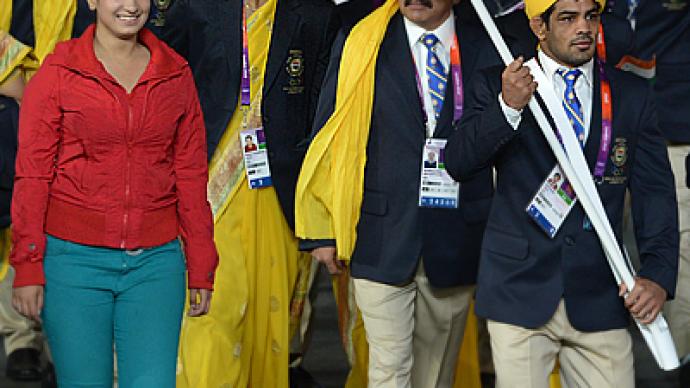 A girl wearing a bright-red blouse gate-crashed the march of the Indian Olympic team at the opening ceremony, infuriating the guests and embarrassing the host's security staff.
The company came out of the blue for the Indian delegation comprising around 40 athletes and 11 officials, acting chef de mission Brig PKM Raja was quoted as saying by the Times of India newspaper.
First a man, whom the Indians thought to be a member of the organizing committee or a security person, asked them to let the girl walk in front of them. The Indians thought the girl was also one of the organizers. After they all entered the Olympic Stadium, she fell back and walked next to the Indian flag-bearing wrestler Sushil Kumar.
The girl's red and turquoise costume was in sharp contrast to the team's yellow and blue clothes. Also strikingly missing in the photo was an ID badge, which everyone taking part in the march is supposed to wear.
Raja said he would be taking the incident up with the organizers.
"We will ask for an apology. She embarrassed us in front of the world… the Indian contingent was shown for just 10 seconds, and to think this lady hogged all the limelight," he is quoted as saying.
When asked whether he considered it a security breach, Raja said: "I can't say that as she was in a sanitized zone, but this was bizarre."
Indian newspaper The Asian Age identifies the female as Mathura Honey, a post-graduate from the city of Bengaluru. It says the woman has been living in London lately and had reported her Olympic opening stunt on her Facebook account. The latter has since been deactivated, the newspaper says.
You can share this story on social media: